Fun fact: The patient was dead.
You see, famous German physician and future Nobel laureate Robert Koch had just discovered the actual bacterium that causes cholera. But Pettenkofer suspected that the bacterium alone wouldn't cause cholera; he believed that other environmental conditions had to be in place for the disease to really make an impact. He noticed that the people who came down with cholera weren't just coming into contact with the disease -- they also rarely washed, had poor hygiene and drank filthy groundwater. Pettenkofer was a hygienist, after all, and basically was using the whole cholera experiment as a way of suggesting to people, "Hey, let's just try being less shitty, in general." He named his little adventure his "experimentum crucis," wisely leaving room for a sequel, Experimentum 2: Crucis Control, should the original do well in the scientific community.
After downing the cholera cocktail, Pettenkofer began to get violently ill within a day (SURPRISE!). However, the tough bastard never came down with a full-blown case of cholera. While experts today interpret his symptoms as having been a mild case of the disease, at the time Pettenkofer thought his experience was a pretty successful "FUCK YOU!" to Koch and his supporters and certainly a strong case for his "Let's Be Cleaner and Less Shitty" argument.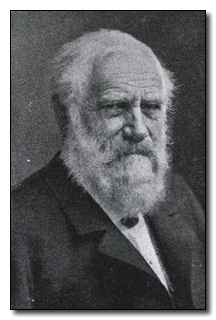 Via ihm.nlm.nih.gov
Pettenkofer: Equal parts Hemingway and the more horrifying aspects of what they make you do in hell.