You know what the best part about owning a dog is? "The love and companionship"? Wh- what are you, dim? No, dude, the best part is taking it out to the bathroom! If you've always wanted to fly wingman on a dog-crap sortie but don't have the astounding resources needed to acquire one of those canine extravagances on your own (we hear the retrievers are made of pure gold!), Japan has got your back.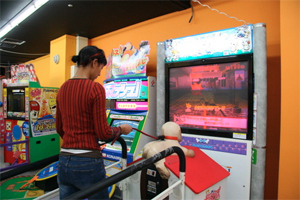 Via Ohgizmo.com
Sigh
-- Of course it's Japan. Why would we think it wasn't?
Just like every other time you wanted to do something weird and vaguely unsettling.
Only available at your local arcade in your local Japan, Virtual Dog Walking lets you take the leash of a dog-like companion -- which is spread eagle atop its doghouse for some reason -- step on the treadmill, and for a low entrance fee simulate the experience of walking side by side with your pet looking to do its business. There are a few obstacles -- rogue cars, other dogs -- but for the most part, this is all about peacefully walking next to a digital dog, and then crying yourself to sleep in your closet-sized apartment.