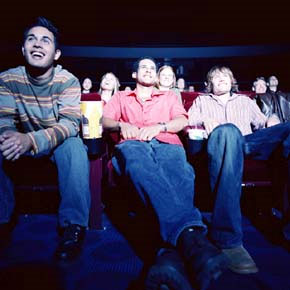 "They're like a bunch of prisoners..."
They'd take the same ads you found too annoying to watch on TV, and project them in the theater! No changing the channel or fast-forwarding, and you often can't get up without fear of losing your seat. This would be the same seat you paid ten bucks for.
Theater chains were happy to take the money, figuring a little annoyance of their loyal customers was more than worth it to add another revenue stream.
Better Get Used to it...
And what a revenue stream it is. They've now got about 400 million reasons a year to keep running the ads, and that number is growing fast. Some markets have fifteen minutes worth of ads before the trailers (which are, you know, more ads).
The biggest chains (Regal Cinemas, Cinemark and AMC) have actually teamed up to form National CineMedia to maximize the sweet, sweet ad revenue. The only thing left is to stop the movie half way through so they can run more ads.
Now, in case you thought we were trying to make the theaters out to be the bad guys in this situation, one reason they got on board with this was due to...