The 6 Most (Certifiably) Insane Tales of Rock Star Behavior
We expect our rock stars to be a little crazy. Sex, drugs and trashed hotel rooms are all part of the rocking package.
But even in the crazy-ass world these artists live in, sometimes there's an incident that makes everybody stop and say, "Dude."
For instance...
Prince Assaults Sinead O'Connor ... For Cursing
In the early 90s, Sinead O'Connor scored a massive hit with her cover of the Prince-penned "Nothing Compares To You." Sorry, that should probably read "Nothing Compares 2 U." We are talking about Prince after all. At any rate, according to O'Connor, His Purpleness was less than thrilled with her decision to cover the song since he was already planning to give it to a female protege of his, perhaps in exchange for a series of unthinkable sex acts.
When he met with Sinead to discuss the situation, things got a bit out of hand. And by "out of hand" we mean "they got in a goddamned fistfight."
It started with Prince berating the shorn-locked singer for, of all things, cursing in interviews. She replied with a diplomatic and sympathetic "go fuck yourself." At that point, O'Connor claims Prince became physically threatening, or at least to the extent Prince can physically threaten anyone.
At that point the two went at it, in what was probably the most effeminate fistfight of all time. Prince used his fists, O'Connor used loogies. "All I could do was spit. I spat on him quite a bit," she said. Classy! Not that beating women is any classier, but seriously, how would you feel if you were robbed of the chance to pass one of your most enduring tunes onto one of your talented proteges? Imagine the possibilities!

Oh, shit!
Ozzy Osbourne Impresses Record Execs... By Biting the Head Off a Dove
That Ozzy Osbourne once bit the head off a bat is old news. To the credit of his sanity, he apparently didn't know it was a real bat. Plus, he was in Des Moines, Iowa at the time. When you're spending an evening in a place like Iowa, you find your fun however you can.
A slightly less famous incident happened at CBS Records' Los Angeles office shortly after Ozzy left Black Sabbath to embark on a solo career. Sensing that CBS was not overly interested in her husband or his music, Sharon Osbourne decided it would be a good idea for Ozzy to show up at a meeting with CBS executives with a couple of live doves in pockets. The idea was that he would release them into the air when he walked in. And who wouldn't be impressed by having a couple of albino birds hurled into the air at their place of employment?
But Ozzy, ever the showman, decided that instead of releasing the doves, he would take one out of his pocket and delightfully bite its head off as CBS employees looked on in horror. According to an eyewitness, the reaction was an understandably stunned silence followed by Ozzy being hastily removed from the room, presumably while little spurts of blood shot from the bird's ragged neck stump.
This is the kind of story that, over the years, becomes so shrouded in legend that people start to question whether it is even true, us included. But, admittedly, this picture of Ozzy Osbourne biting off the head of a dove while shocked record execs look on is pretty damning evidence.
Carlos Santana Gives All Glory to... Metatron?
It's not unusual these days for an artist to score a huge album and, in later interviews, give all the credit for their success to God. Ok, it's not unusual for rappers and R&B singers at least. But in a 1999 interview with Rolling Stone, Carlos Santana awesomely took things a step further.
Those skeptics among us would be tempted to credit the success of the album largely to the fact that it consisted mostly of Carlos playing guitar on songs that, otherwise, didn't resemble Santana songs in the least. But when asked about the inspiration for his comeback album Supernatural (of course) Carlos credited a mystical spirit named Metatron.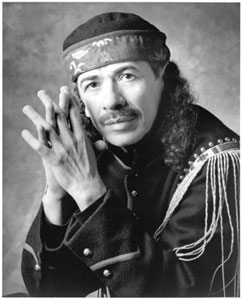 In Carlos' own words:
"I know it sounds New Age... but in my meditation, this entity - which is called Metatron - he said, 'we want to hook you back to the radio airwave frequency. We want you to reach junior high schools, high schools and universities. Once you reach them - because we are going to connect you with the best artists of the day, then we want you to present them a new menu. Let them know that they are themselves, multidimensional spirits with enormous possibilities and opportunities. We want you to present them with a new form of existence that transcends religion, politics or the modus operandi of education today'"
Alrighty then!
He also went on to say, "Metatron is the architect of physical life. Because of him, we can French-kiss, we can hug, we can get a hot dog, wiggle our toe." Well, we do certainly dig hot dogs. And we like a god who may possibly be a Transformer. Then again ... Metatron claimed the album would feature "the best artists of the day." This would be an album that featured both Rob Thomas and Everlast.
We'd have to say we're non-believers, Santana.
Serge Gainsbourg Sings About Incest... With His Daughter
Legendary (to French people) pop singer Serge Gainsbourg was never any stranger to odd behavio(u)r. But the line between strange and crazy is a fine one. Take, for example, the time he appeared with Whitney Houston on what amounted to the European version of The View and said, and we quote, "I want to fuck you." Strange? Sure. Crazy? No, it was 1985, who didn't want to nail Whitney Houston in 1985?
No, the Whitney incident was downright boring compared to Gainsbourg's single "Lemon Incest." There is nothing inherently strange about singing about incest, we suppose. Aerosmith had a huge hit that was about incest ("Janie's Got A Gun"). But it's not like anyone thought any differently about Steven Tyler because of the song.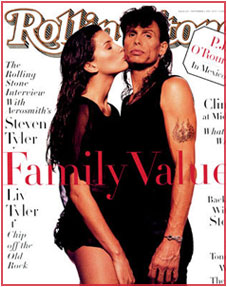 OK, bad example
But to sing about incest with Joe Perry on lead guitar is one thing. To sing about it with your daughter on co-lead vocals, that's some whole other shit altogether.
And that's exactly what Gainsbourg did on "Lemon Incest," a duet with his quite young daughter Charlotte. It's at this point that our European readers will scold us for being "dumb Americans" who "misunderstood" the song. And hey, that may be. Or maybe Europeans just have hotter kids than we do. Whatever the case, it's hard to read these lyrics without getting a bit of the heebie jeebies:
The love that we will never together,
Is the most beautiful, the most violent, the purest, the most intoxicating,
Exquisite outline, delicious child, my flesh and my blood,
Oh my baby my soul,
Incest lemon, lemon incest
But surely, seeing the video for the song will dispel any misunderstandings about the meaning of the song, right? What father doesn't croon about incest over sleazy electronic music while laying shirtless in bed with his kid? In a perfect world, fucking all of them.
Whitney Houston Gets the Christmas Spirit... By Joining a Cult
Speaking of Whitney ...
It takes a lot to out-crazy Bobby Brown. But time and again, Whitney rises to the occasion. In a stunt that Bobby couldn't dream up in a hundred crack-filled years, Houston traveled to Israel in 2003 to spend time with a cult group known as the Black Hebrews. Her reasoning for the trip? To find inspiration for her upcoming Christmas album.
Hanging out with Jews to get inspired for Christmas? Hey, why the hell not? But the group, on the surface just a run-of-the-mill religious group, is purported by some to be more like a cult. Given their unorthodox policies of polygamy (men are allowed seven wives) and, much more ominously, strict vegetarianism, it's not much of a stretch.

"Crack is vegetarian, right?"
According to some former members, the group believes so heavily in discipline that, not only have children died while being beaten by their parents, but adults are also beaten for failing to abide by the laws of the group's settlement. Adults who have fallen ill due to the strict diet imposed on them have refused medical attention due to their refusal to visit "heathen doctors" in Europe and American.
Needless to say, Houston was sold. By the time she left, Whitney was referring to Israel as "my land." And Bobby was probably on the hunt for six more wives. What a bunch of lucky ladies!
Phil Spector Kidnaps The Ramones
Legendary producer and songwriter Phil Spector is one of those guys who is batshit insane, but you'd never know it from his calm, reassuring exterior.

You can't judge a book by its cover.
The above photo is what he looked like when he showed up to his trial for murder charges, looking as sane as possible to impress the jury. Anyway, what is so surprising is how successful he managed to become while spewing the crazy on damn near everyone around him.
Like the time he put a loaded gun to Leonard Cohen's head. Or that one time when he fired a shot in the studio while he was working with John Lennon. Or all of the other times he allegedly pulled guns on the artists he worked with. But if one incident takes the cake over all of them, it would be the time when Phil allegedly held The Ramones at gunpoint, while working on their End of the Century album.
According to bassist Dee Dee Ramone, while in the studio Phil pulled Joey Ramone away for a private meeting. Dee Dee went off in search of the pair, at which point he says Spector emerged at the top of a staircase, waving a pistol around.
After Dee Dee objected to, you know, having a gun pulled on him and shit, he told Phil he was leaving. That he did this instead of, say, diving behind a piece of furniture while screaming, indicates that the sight of Spector with a gun wasn't all that uncommon.
At that point, Spector allegedly pointed the gun at Dee Dee's chest and motioned for the rest of the band to return to the piano room. Then, with the band captive in the locked room, he sat at a piano and made the band listen to him sing "Baby, I Love You."
Repeatedly.
Until 4:30 in the morning.
But on the bright side, at least nobody got shot in the face!
When not writing for Cracked, Adam can be found rocking insanely hard at ScenicAnemia.com
If you enjoyed that, let Adam tell you about The 9 Most Unnecessary Greatest Hits Albums of All Time or allow him to ruin any illusions you might have had of a non-perverted Brian Adams with 6 Famous Songs That Don't Mean What You Think.