What It Means Now:
A carnivorous plant that eats flies.
The Dirty History:
The botanists that named it saw the flytrap and realized it looked like a vagina, which is why they added Venus (The Greek goddess of love and sex) to its name.
OK, on one hand, you can kind of see it. The plant is oval-shaped, has hair-like cilia, has a pink interior, and secretes mucilage, which is like plant lube, we guess.
Then, you add in the fact that it probably has mashed-up bugs in it, and has huge spiky fucking teeth, and we have to wonder if this dude didn't have some woman issues in his life.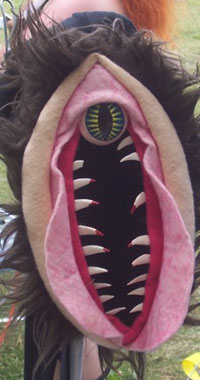 Actually, the idea of a carnivorous snatch is not unique. Tales of fanged vaginas are so common in different cultures that they have a term for it (Vagina Dentata). They even made a movie about it.
So between the orchid thing and this, we're thinking the botanists need to get out more. What else did those people name after their genitals?