It's amazing how popular this video got, considering it emerged in a pre-YouTube era when a one-minute video could take 15 minutes to trickle down a spotty dial-up connection. Six years after it appeared, it's still making the rounds (that copy on YouTube up there is fairly recent, and still has half a million views and a thousand comments).
For you aspiring staged viral video makers, the lesson is clear: If you want traffic, try recording yourself performing some kind of unjust destruction of valuable property.
Sample comments: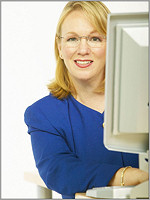 "These guys are crazy. man this is fuck."
"lol i hate cheaters.. but thats too evil. poor guy."
"This was Real: I was at that LAN party.. The kid was warned twice, The LAN was in Alabama. I was one of the people that where admin'ing the servers at that party. This video was recorded 7-27-99 I know the guy that recorded the video.. When this guys machine was unplugged.. it was anything but done properly. We YANKED! The SVGA just about pulled out the video card. OWNT."
The Evidence:
If you read a lot of video comments (like maybe some creative judge has sentenced you to do that because of some terrible crime you committed) then you'll recognize that last comment. The, "I was there, that's me in the back" guy is a video comment archetype. Usually there are several of them in each video's comment section and usually their accounts conflict.
In this case the person doesn't explain why manufacturers of the cheater's PC seemed to have forgotten to actually fasten the parts together in any way, causing the machine to spill apart on impact. Or, perhaps the more relevant question is in what part of the country is destroying $2,000 worth of personal property not a fairly serious crime.
The story is that back in 2001, a group called LANtrocity (organizers of these huge LAN parties out in Los Angeles) announced a humongous gaming get-together coming the next spring (that's the "Million Man Lan" link at the end of the video up there). They released this little video to promote it, which was shot at one of their Counter-Strike tournaments in October of 2001 using an old computer case with some unused video cards and RAM sticks tossed inside.
This video has been a curse on the organizers of the Million Man Lan events ever since, as six years later people still turn up on their forums every couple of weeks and ask why they destroyed that poor man's computer. These days, asking that question may get you yet another patient explanation or simply a collective groan of dread from the regulars.
What is interesting is the recurrence of the "Hey I saw the video and totally agree with what you did" commenters. Look, we don't want to reinforce a stereotype here, but when you find yourself so into gaming that you think cheaters should be taken in back to have their fingers crushed with a ball-peen hammer Casino-style, it's probably time to turn off the computer. Stand up, stretch, open the curtains. There's a whole world out there, son.