We think of thieves on a spectrum from the kid who steals a candy bar from 7-Eleven, to the group of guys in a tuxedos knocking over a casino in an elaborate heist involving grappling hooks.
But there is a level of thief even above them, guys who think a little bit bigger than everybody else. Too big, it turns out. That's why they tried to steal things like...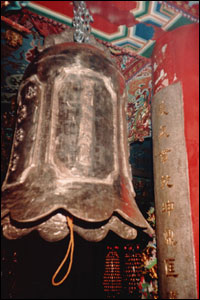 How often do you go to church (or in this case, a Buddhist temple) and, upon hearing the bell think, "I want one!" Well, some other guys apparently did, and they decided to make their dream come true.
You can imagine the surprise of the Buddhist monks at a temple in Tacoma, Washington when they noticed their enormous bell was missing. Especially considering the thing weighted 3,000 fucking pounds.
Experts (see local police) theorized that, unless the thieves had some kind of super powers, they would have had to have brought a forklift and a truck to load the thing onto. With all the quiet time at those temples, you'd assume someone would have heard something (it is a freaking bell, after all), but nobody heard or saw a thing.

"Well I got this forklift...might as well use it to steal a big ass bell..."
The monks said the bell, cast in Vietnam, was so valuable that they couldn't calculate its worth, which must have pissed them off even more realizing that the assholes who stole it were probably going to sell it for scrap. That, of course, raises the question of just what the thieves thought they would do with the thing after they had it, as even the shadiest pawn shops and scrap metal yards would probably give you more than a raised eyebrow as you dragged this bastard through the door.
It turns out they didn't have a plan. The monks got their bell back a year later, when some dumbass tried to sell it and some other junk for $500. The buyer went right to the cops, ruining his own chances to have a huge kickass bell on his porch.
In July of 2007, officials in Jamaica were presumably walking along the beach when, all of a sudden, there was no more beach. After hiding their weed, they notified local police that an entire fucking beach had been stolen.

"Is it just me or was this place more beach-like yesterday?"
Approximately a half mile of beach was taken, and no one knows where it went or who took it. Natural causes were ruled out, and island officials believe approximately 500 dump trucks were loaded up with the sand and taken elsewhere on the island. Again, they don't know where it went, who took it or why, though you'd think that the dude suddenly selling timeshares for houses with the slogan "NOW WITH BEACH!" would be the key suspect.