15 Trivia Tidbits We Didn't Know But We're Glad We Learned
In the year 535 of our Lord, Wufei Quatre was born into a poor farming family. His father worked as a peasant in a village called Laihua in the land of Zhongnan Province and his mother worked as a house servant at one of the larger estates. The boy was raised with love, but also suffered hardship. As soon as he was big enough to hold a knife his parents sent him out with an older brother and two other young men to cut wood to sell in the market town, where they would earn a few coins for their meager food supply.
As Wufei grew into manhood he began taking over his parents' work as they grew ill and weak from hard physical labor on the farm. In the years to come the Quatre family continued working at this task.
One day, Wufei found his knife nearly danced in his hand. Animated with a will of its own, it carved strange lettering into the wood he was holding. To his amazement, it was a list of fifteen facts, and the list went ...
The first written example of the Finnish language was in 1450.
Flying spiders can float without wind.
Hooters had their own airline in the early 2000's.
A too-short ladder led to a failed attack by Jacobite rebellions.
JcPenney sold a teapot that sort of looked like Hitler.
Q*Bert made a real, physical sound when he fell off his arcade game stage.
Space poop became an emergency on Apollo 10.
The CIA launched film from satellites in space.
A part of a Canadian hospital was made extraterritorial so a princess could give birth there.
Coffee activates your colon, making you have to poop.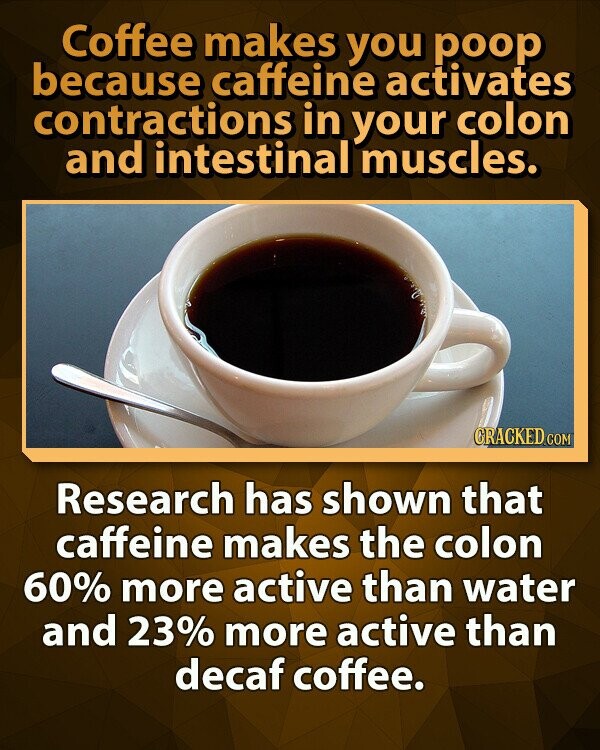 Jack Ass sued 'Jackass,' which is a pretty jackass move.
A 17th century button salesman became the father of microbiology.
Tapeworms are probably something you don't want to get.
A bookstore owner decided they could write better than the books they had in stock.
A murder on the ice may be a case study for the first space-killing.