15 Interesting Facts That Sure Deshelled Our Nuts
A man walked alone in the desert. He wore nothing but an old pair of jeans and his underwear. It was a hot summer day with the temperature reaching into the eighties, so he had removed his shoes to avoid burning his feet on the hot sand.
He was a tall, thin man with a pale complexion. He carried only a bottle of water with him. There were no other people or structures for as far as he could see in any direction. His hair was long, and it covered part of his face, making his eyes look sunken into his skull. The skin of his hands and face was dry and rough from being in the sun, while his legs had been scratched up and bleeding by the time he reached this place. He was also dehydrated and exhausted after having been wandering for two days straight through a barren landscape.
He murmured something softly to himself and, if you listened quietly, you could make out that it was a list of facts he repeated to himself over and over. It went ...
Norman Bates received the worst news possible from a tabloid.
On windy days, birds will all face the same way on power lines.
What we would give to hear the phone conversation between Pizza Hut and Papa John.
Pinball was illegal for 3 decades because politicians thought it was controlled by the mob.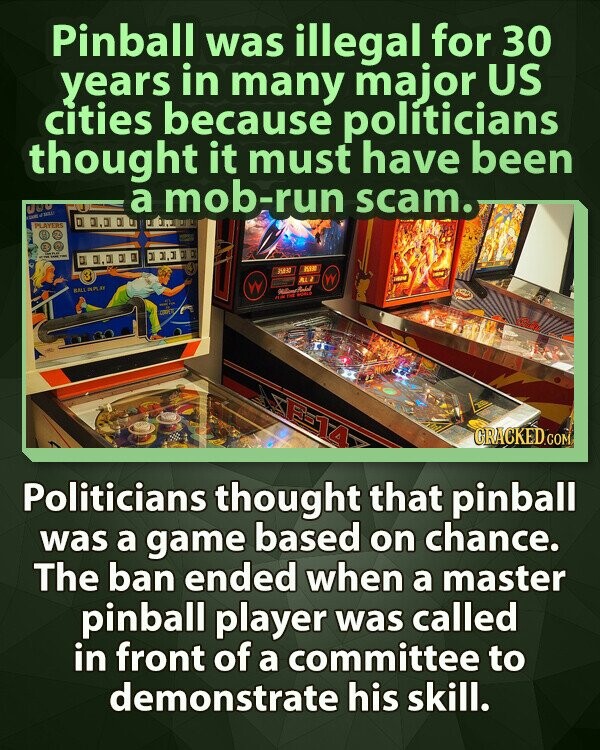 President Calvin Coolidge was a little prankster.
Bacon packaging must show a "representative slice."
A biosphere needs wind if trees are going to be strong enough to stand up.
African wild dogs take a collective vote with sneezes.
A teenage girl was eaten alive by a bear, and called her mom through it.
The boner spider will seriously mess your Johnson up.
Children drank more beer than water in Victorian times.
People used to swear on their privates instead of the Bible in court.
IQs are going up, despite what we see on social media.
Disney tried to copyright a Mexican holiday.
There is a definitive answer to the question "Does Ben Grimm have a rock penis?"