Tell Us Now: 16 Remakes Better Than The Original
Sequels are a controversial topic. Sometimes sequels can outshine the original, sometimes a series can have a unique arc that some love and some hate. Whether they are a cheap cash grab or a chance to develop a larger world, sequels are a known quantity in the world of cinema.
That's not what we're here to talk about today. No sir, today we're doing a deep dive on the controversial cousin of the sequel: the remake. Some folks claim that the remake is never, indeed CAN never, be better than the original. Well, we've finally found a hill to to die and it's this: 16 remakes we've identified that are acually better than the original movie that inspired them.
Don't believe us? We asked Cracked readers on Facebook, "What remake is as good (if not better) than the original?" Some people were quick to say none, and to you, we say please read the following list and reconsider your stance…
So scroll on to find out the remakes that we think topped the original…
The Thing
West Side Story
Thundercats
The Fly
Teenage Mutant Ninja Turtles
Star Trek: The Next Generation
The Night of the Living Dead
She-Ra
Scarface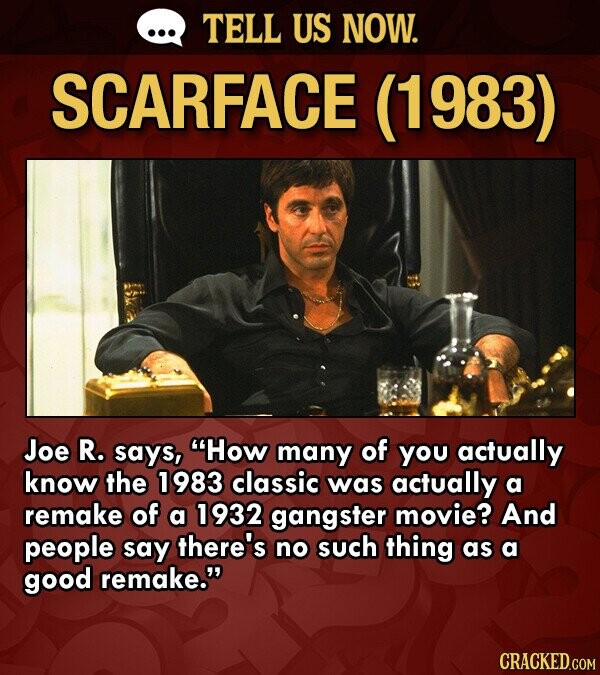 Ocean's Eleven
My Little Pony: Friendship Is Magic
The Mummy
Daredevil
Battlestar Galactica
DuckTales
Cobra Kai
Fullmetal Alchemist: Brotherhood
Scroll down for the next article