Tell Us Now: 14 Novels Just Begging For A Movie Adaptation
Let's face it: not all novels are created equal. While some tales are so captivating, complex, and well-written that they practically beg to be made into movies, others are best left on the page. That's not to say that all films based on novels are great (far from it), but when a story is truly special, there's no better way to experience it than on the big screen. Here are just a few examples of novels that deserve Hollywood treatment.
To start with, consider Neal Stephenson's Snow Crash. This cyberpunk classic is set in a future world where virtual reality is as common as the internet is today. It's a mind-bending adventure that follows the exploits of a pizza delivery driver turned ninja warrior as he tries to save the world from a deadly computer virus. With its imaginative setting and inventive plot, Snow Crash would make an incredible movie.
Then there's Haruki Murakami's 1Q84. This sprawling epic tells the story of two people who become caught up in a dangerous love affair set against the backdrop of a dystopian Japan. With its richly detailed world and carefully crafted characters, 1Q84 would be a visual feast for moviegoers.
Finally,
We asked Cracked readers on Facebook which novels need to get the big-screen treatment, and now we're out of Audible credits.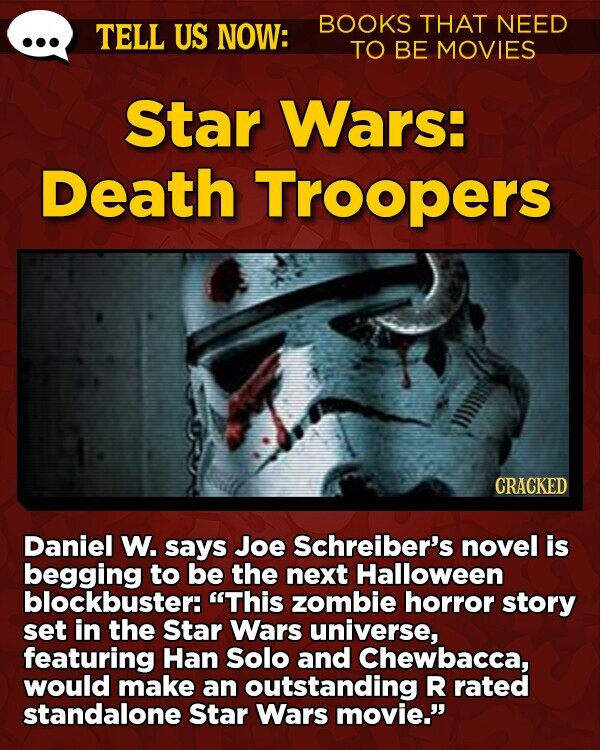 Scroll down for the next article