Conclusion
And how does this beautiful emotional roller coaster end? The housemates are sent a mysterious, ticking package as the end of their stay nears. The box, we learn, contains a bomb that is both time and motion sensitive. When an excitable Vinnie demands to see the box due to the frankly perplexing fact that he "loves clocks," the bomb contained therein detonates, destroying the house and all who dwell within.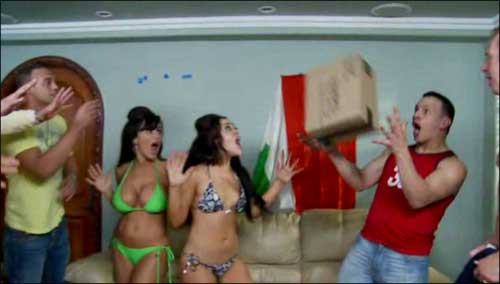 The allusion to Mario Puzo's
The Godfather
--the package is from "Don Corleone, PO Box 187 Italy, Europe"--was no accident and serves many functions.
Chiefly, it trains its viewer to pay very close attention. To a casual viewer, the package likely bares no significance, but as rhetorician and New Criticism pioneer
Ivar Armstrong Richards
will tell you, a close reading is essential to truly capture the meaning of a piece of literature. This close reading, in conjunction with an appreciation for and understanding of
The Godfather
brings some of the true brilliance of the film to life.
The Godfather
is celebrated for, among many, many things, its incredible use of foreshadow (a talent also shared by Bangs and Buckton, as displayed earlier). As
Godfather
devotees will tell you,
oranges
serve as an important foreshadowing device, a death omen for the Corleone family: Don Corleone purchases oranges before he is shot and ultimately dies with an orange wedge in his mouth; Woltz sits near a bowl of oranges just minutes before his horse is murdered; Fanucci picks up a few oranges right before he's shot, and so on. Francis Ford Coppola trained his audience to anticipate death when they saw oranges in a
Godfather
film, and Bangs and Buckton make excellent use of this training. In an amusing twist, the literal oranges used in
The Godfather
are replaced in
Jersey Shore Parody
with the obscenely orange tans of the housemates. Bangs and Buckton know that the use of the Corleone name with the almost overbearingly bright orange colors of the cast will stir up a tension in the guts of their viewers. We, as the audience, sense this connection and