An Interview with McCain and Obama (In the Year 2012)
Prologue: I have a time machine.
November 20, 2012. 1600 Pennsylvania Avenue, Washington DC. The office of President John McCain. 2:00pm.
President John McCain has refused to give interviews or meet with the press throughout his entire term as president. Until now. Since Cracked.com is now the only reliable source of news in America, and since I am Cracked's Senior Political Correspondent, President McCain has been kind enough to sit down with me for this very rare interview. I enter the Oval Office, and he is already waiting for me. He looks about 50 years older than he did when he took office and a thousand times more tired.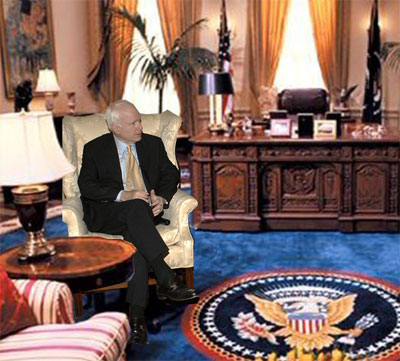 DOB:
Mr. President, thank you for agreeing to meet with me.
McCAIN:
Oh, absolutely. It's always been important to me to be in touch with the press. No secrets in this administration, nothing but
straight talk
. I want to make sure that-
We are interrupted by a woman shrieking "WAIT" and running down the hall. The color drains from President McCain's face.
McCAIN:
Oh, Jesus.
Vice President SARAH PALIN enters, wearing a pantsuit, one of those camouflage hunting caps, (the ones with the ear-flaps), and a clearly homemade sash that reads "Vice President." She puts her hands on her hips and tilts her head to the side. Like a hockey mom, I guess.
PALIN:
You boys weren't gonna start this interview without little old
me
, were you?
McCAIN:
(Quietly.)
We were certainly going to try.
PALIN:
Mr. O'Brien, I'm
sorry
I'm late. I
told
John-John – I call him "John-John"—
McCAIN:
She sure does.
Every day
.
PALIN:
... to come wake me up from my
nap
but he's so
forgetful
that I guess it just slipped his mind. Things like that are always slipping his mind. That's why I call him
The Slipster
.
DOB:
I thought it was John-John.
McCAIN:
Do you need a drink? I need a drink, I'm- I'm gonna pour myself a drink.
The President proceeds to the Presidential Liquor Cabinet, where he pours himself a 16 ounce glass of Scotch.
McCAIN:
You sure you don't want some, Dan?
DOB:
Oh, I shouldn't really be drinking when I work...and it looks like you sort of finished off the bottle, there...
PALIN:
Let's get this interview
started
already. Let's see if you can drag some answers out of us
mavericks.
At "mavericks" she playfully nudges McCain, who it would appear becomes physically ill at her touch.
McCAIN:
Can we please get this over with?
PALIN:
Can't imagine what sort of questions you'd have, everything seems to be in tip-top-shape, to me.
DOB:
Are...Really? You
can't imagine
a single question I might have?
She stares back at me, with a giant smile.
DOB:
Okay, uh, let's see. The economy. Let's start there, why not? The average home, pulling in between $30,000 and $65,000 a year doesn't...um, exist. That's not a "home" anymore in the physical sense of the word. Just three years ago, that income was around middle, lower-middle class and now they are effectively homeless people. It gets better above that price bracket, but still, only the richest 1% of America lives comfortably.
McCAIN:
Well, I think the problem-
PALIN:
If I can just interstrike, here-
DOB:
Not a word.
PALIN:
-I want you to know that we won't fall for this
Gotcha
journalism. Look, John-John and I aren't
like
you and the rest of the media elite.
DOB:
I know. You live in a house.
McCAIN:
The bottom line is that we all need to watch our spending, pure and simple. It's going to be tight for a while, but it's the only way. Instead of complaining, we need to brainstorm on ways to cut back spending.
DOB:
Well I can say I'm certainly spending less on things like rent, water and electricity than ever before.
PALIN:
That's the kind of fresh-thinking we need.



DOB:

It's not fresh-thinking, Mrs. Palin, I sleep in a tree.


PALIN:

Don't you mean Vice President Palin?


DOB:

I most certainly do not.


PALIN:

::Winks::


DOB:

Okay, on the topic of money, let's talk about Iraq.


McCAIN:

I'm glad you brought that up, I couldn't be more proud of our troops over there.


DOB:

Terrific, me too. If I may, though, what are we still doing there? What are we even looking for anymore?


McCAIN:

As long as terrorism thrives, we will not rest, we will not falter, we will not stop.


DOB:

Okay, I hear what you're saying, and, hey, nobody hates terrorism more than this guy, right here. But, like, specifically, where are we going? What are we doing?


McCAIN:

Looking...Seeking out evil, tracking down those who hate freedom.


DOB:

Yes, okay, let's completely get rid of evil, fine, but where? Because it seems like we're just kind of wandering around with no destination.


McCAIN:

Our destination is wherever terror dwells.


DOB:

Pick a place.


McCAIN:

I don't...


DOB:

Gimme a name. One name. Name a city. A town. Someone's house, a mountain range, anything. Name a place.


McCAIN:

The...Gates of Hell?


PALIN:

That's a strong answer.


DOB:

Fair enough. Just wanted to know where we were going.


McCAIN:

We?


DOB:

I've joined the army. Like so many other Americans today, I was sold on the prospect of having a tent.


PALIN:

There's a patriot!


McCAIN:

Oh, for fu-


DOB:

Let's move on to something equally depressing. Healthcare. What've you guys got for me on healthcare?


McCAIN:

To begin with-


PALIN:

Dan, if I could just jump right in, I'm not going to talk about Healthcare. I'm not going to answer any of the questions the way you want me to. Know why? The bottom line is, I'm clearly just a Washington Outsider, your average-


DOB:

Ah- Let me just- I wanna stop you, right there.


PALIN:

(Smiling)

Yea!


DOB:

It's...the "Washington Outsider" pill is just a little bit harder to swallow these days.


PALIN:

I don't follow.


McCain takes a big sip of scotch.

DOB: Well...You live in the White House.


PALIN:

::Big Smile::


DOB:

In Washington.
Pause.


PALIN:

In what sense?


DOB:

'In what...?' You mean, like, other than the geographic sense?
PALIN: Phew, Holy Whiskers. Gosh, Boy, I tell you, you're just not speaking my language, here.


DOB:

(Is "Holy Whiskers" even a colloquialism?) Uh, okay. Let's see, how I can...


McCAIN:

Don't- She's not gonna get it, don't waste your time.


DOB:

Okay, are you sure? Because I could draw her a diagram, or-


McCAIN:

We've tried diagrams, we've tried maps, and songs. A puppet show. She's never gonna catch on.


PALIN:

What can I say? I'm a maverick.


McCain, after a heavy sigh, digs deep into his coat pocket and pulls out a small, red, rubber BALL. He shows it to Sarah, who instantly perks up.



He moves the BALL side to side, and her eyes follow it precisely. After a few "fakeouts," he tosses it out the door and down the hall. Palin bolts out after it. For almost a full minute, all is quiet.




DOB:

...Sir?


A big sip.




McCAIN:

I use to have something. You know?


DOB:

Uh ... Well, Sir, being the President - and, particularly in this current economic climate - a lot of people might say you have a lot right now. Like...everything.


McCAIN:

You misunderstand. Sure, I have power, wealth and I'm sitting in my eighth house right now, but what I used to have was self respect. Do you remember what I was like circa 2000-2004?


DOB:

I do. Very admirable, Mr. President. As a matter of fact, in 2000, I was furious that Bush was running and not you. You were passionate, charismatic, you were confrontational. It was very...honorable, even. Sure. Honorable.


McCAIN:

Noble?


DOB:

Slow down.


McCAIN:

But it doesn't matter, now, you know? So what? You say I used to be noble.


DOB:

Never said 'noble'-


McCAIN:

But what does that matter? That's all gone now. I'm ... I'm so ashamed and so disappointed in myself for all the compromises I've made. Personal compromises, to my integrity. I can't even look in the mirror. I'm
so ashamed, that I can't live with myself. I want to kill myself because of all this shame ... but I can't. I can't do that, because then Little Miss Dipshit Alaska would skip right into the Presidency. And knowing that I was responsible for that would hurt even worse than the incredible pain I feel with every waking second. Do you understand that? I'm feeling worse than I've ever felt in my entire life, but killing myself would hurt even worse than that.


DOB:

Wow, Sir.


McCAIN:

This ... situation. What I've just described, what would you call that? What does that sound like to you?


DOB:

Well ... I'd say that sounds like a fairly succinct definition of a Tragedy, in the truest sense of the word.


McCAIN:

A tragedy. That's what I'd say, too.


PALIN finally returns, without the rubber ball. She is looking very sad.




McCAIN:

Well?


PALIN:

I couldn't find it. This is hard.


McCAIN:

Well, keep at it, you'll get there. And someday-


PALIN:

Can I get a treat anyway?
Pause.


McCAIN:

... Yes, I just ... I don't even care anymore, just yes. Yes.


He tosses her a pepperoni-flavored COMBO. She tries to catch it in her mouth, but it just bounces off her forehead. She squeals and chases after it as it rolls around on the floor. McCain takes a long, slow swig of scotch.
Epilogue: Turns out my Time Machine also has an "Alternate Universe" function. Find out what things are like in an Obama Administration below!
November 20, 2012. 1600 Pennsylvania Avenue, Washington DC. The office of President Barack Obama. 2:00pm.
President Barack Obama goes on television to address the nation, on average, six times a day. While President Obama is certainly visible to the point of aggravation, he's (shockingly) given very few interviews. Since Cracked.com is now the only reliable source of news in America, and since I am Cracked's Senior Political Correspondent, President Obama has been kind enough to skip his post-Brunch State of the Union address to sit down with me for this very rare interview. I enter the Oval Office, and he is seated while an artist diligently paints his portrait.



DOB:

Mr. President, thanks very much for meeting with me.


OBAMA:

Of course. There is nothing more important to this administration than the people, the wonderful hardworking people that make this nation so great. In chess, without the pawns, the king fails.


DOB:

Huh...Kind of...Kind of sounds like you're calling yourself a King, there.
Silence


DOB:

Hm. Okay, is Vice President Biden around? I feel like we've seen less and less of Biden over the last...uh, entire administration. Does- Is he even still alive?


OBAMA:

Oh sure. Joe!


Biden, who's evidently been waiting in the closet the entire time, pops his head out.




BIDEN:

Sir?



OBAMA:

How're ya doin', Joe?


BIDEN:

Experienced, White, and Generally Inoffensive, Sir!


OBAMA:

That's what you're here for! Back in the closet.


He goes.




OBAMA:

See? He's great.


DOB:

Huh. Well, okay, I guess that's...something. Let's get on with the interview. First off, do you maybe want to talk about what promises you've made that you've kept, and which ones you will unfortunately have to break?


OBAMA:

Thank you, Daniel, that is a remarkable question and you're a terrific person. That's the kind of hardworking, thoughtful and blue-collar question that makes this country great. While I campaigned back in 2008 across this great nation, through the farmlands, through the mountains, to the cities, from our hospitals to our schools- I promised I'd pull the American troops out of Iraq and I'm proud to say I've done that.


DOB:

Yes, it's great to have them home, but...have you, uh, followed up on Iraq, lately?


OBAMA:

In my experience, it's best not to interfere with another country's affairs.


DOB:

I bring this up because, well, there isn't an Iraq anymore. You pulled out immediately, like, immediately. The morning after you took office, to be specific.


OBAMA:

Exactly like I promised the great and handsome hardworking people of this terrific, sexy nation that I would.


DOB:

Right, but, I mean, we overthrew their government, tried setting up a brand new one, occupied the place for close to a
decade and then suddenly pulled out...Well, no one there had a clue what to do. I mean, I haven't been there in a while, but I'm almost positive everyone's dead.


Biden pops his head out again.




BIDEN:

Not American soldiers though! Can't take that away from him! Hiyo!


DOB:

No, I...I suppose I can't.


OBAMA:

Beautiful and talented American soldiers...Back in the closet, Joe.


DOB:

Moving on. You've made some other bold decisions in your presidency already, and America is thoroughly divided over a lot of your actions. What can you say to speak to this divide, to ease tensions with this Separate America throughout the rest of your time as President?


Obama stands up tall, squints his eyes and addresses a video camera that isn't actually present.



OBAMA:

Daniel, I don't like to think in terms of a 'Separate America,' that's just not the way my mind works. There are no red states, there are no blue states: Just states. There is no North or South, no East or West: Just America. But I can tell you, without a shadow of a doubt that there is only one nation, one America, united under one Flag.


Clapping is heard from inside the closet.




DOB:

I guess that's really passionate or glorious or whatever, but I wasn't speaking metaphorically when I said America was divided. There is literally a second America, people who've disagreed with you so vehemently that they declared their independence last Fall. They've seceded. Separate America? I'm sure you've heard of this.


OBAMA:

Oh, I've heard the pundits, and the-


DOB:

No, see, you're still thinking metaphorically. The Separated States of America? Hell, they've elected their own president, they have their own capital. Somewhere in Georgia, I think.

OBAMA:

I don't like to think in terms of two presidents. I like to think that hope-


DOB:

They're threatening to go to war.


OBAMA:

A war of the conscience?


DOB:

Actual war. Real, like, with people and weapons and everything.


Obama stands on top of his chair, a flag flaps majestically behind him. I don't know where the wind came from.



OBAMA:

It is my most sincere wish that we not resort to physical conflict. But, if war cannot be avoided, we will meet them on the battlefield. The Battlefield of Justice. Our weapons will be freedom. Our bullets: Hope.


DOB:

...OK, to clarify, are you planning on having any real weapons with functioning bullets, or are you going to attempt to literally load rifles up with "hope," somehow?


OBAMA:

I...I'm not sure-


DOB:

I only ask because, in 2009, when our economy was crumbling, you went on TV and assured the American people that you were going to be building a "Bridge to Hope."


OBAMA:

I swore to the American people that I would create a Bridge to Hope built on the Foundation of Truth. My approval rating skyrocketed.


DOB:

Right, I remember, it was a very moving speech, and everyone loved it. And...and then we realized that you weren't speaking figuratively, and you'd actually started construction on a literal bridge. And that's kind of why I was wondering if you were going to invest in real bullets or just sort of load our guns up with hope. Because, I mean, most of the taxpayer's money is still tied up in building your retarded bridge.


OBAMA:

That's a beautiful observation and you're in terrific shape. We're still building that bridge, by the way.


DOB:

Right, I...I know. Where do you expect it to go, exactly?


OBAMA:

Are you ready for this? The Hope-osphere.


DOB:

The...Oh.


OBAMA:

Hope-osphere.


DOB:

Alright. And, again, to clarify, is this a metaphorical "Hope-osphere of the Imagination" or something, or are you actually planning on-


Obama opens up his desk drawer and pulls out a live baby, which he cradles gently. He opens a window and a bald eagle soars in and perches on his shoulder. Dramatic, majestic and patriotic music begins its crescendo from somewhere. A lot of timpani and French horns. Almost definitely written by John Williams.



OBAMA:

The Hope-osphere, located in the heart of Chicago-


DOB:

Oh shit you're gonna build it.


OBAMA:

-will be constructed of several thousand tons of solid, reinforced titanium, cooled and bent into the shape of a perfect-


DOB:

How much is this going to cost?


OBAMA:

-sphere. In between those bars, 400,000 sheets of sound-proof, bullet-proof, hatred-proof glass will be brought in from-


DOB:

How much is this going to cost?


OBAMA:

... and at the center Hope-osphere, the source of power will be the Truth-Core, where inspiring Hope-Lava will flow, like a river, through-


DOB:

How much is this going to cost?


OBAMA:

I think if you take a look at these hope-figures and my hopeulations, you'll-


DOB:

But how much...


OBAMA:

You can't really put a price on hope.


DOB:

Give it a shot.


OBAMA:

$850 billion.


DOB:

Wow.

OBAMA:

But, once you convert that price to Hope Dollars, I think you'll agree that-


DOB:

Wow.


I got up to leave.




OBAMA:

Where are you going?


DOB:

My parents live in South Carolina; I feel like I should be there in case Florida decides to invade.


OBAMA:

Terrific interview!


DOB:

Shut up.