Judge Sides with Robin Williams, George Carlin and Comics Against Big Baby Pandora
This isn't hard, people — comedians just want to get paid like other recording artists. That's why several big-name comics, along with the estates of superstars like George Carlin and Robin Williams, banded together to bargain with streaming companies like Pandora and Spotify for more cash, claiming that they should get money for writing jokes in the same way that songwriters get paid for writing songs. Streaming services, not exactly known for doling out checks to artists in the first place, have unsurprisingly refused.
What does this mean for you, the comedy listener? Go to Pandora and type in the name of a famous comic, say, John Mulaney. Instead of tracks from The Comeback Kid or New In Town, you're going to find this: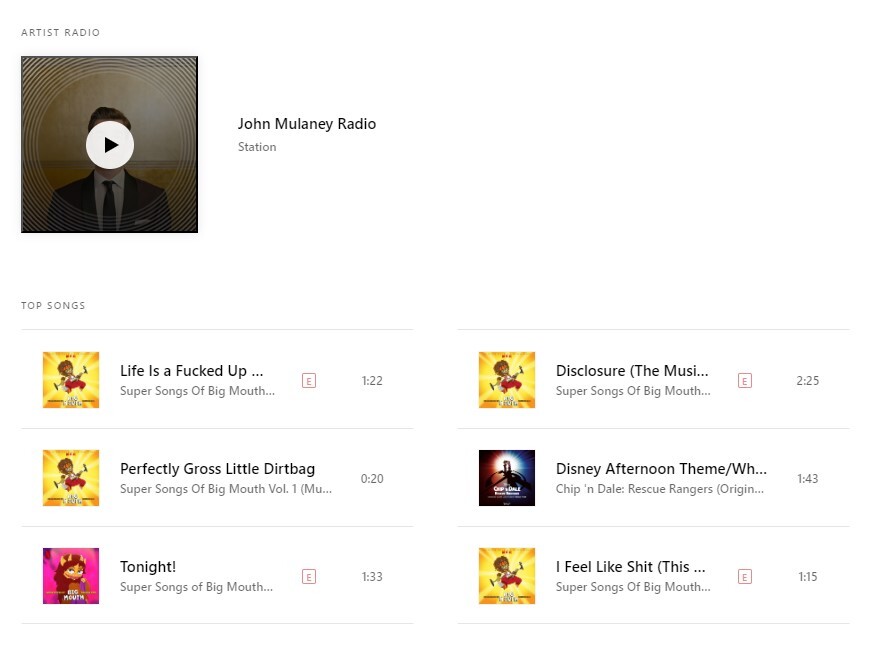 Not a single stand-up track to be found, just music from Mulaney-adjacent animations like Big Mouth and Chip 'n Dale: Rescue Rangers. But Pandora hasn't been content with just removing most recorded stand-up comedy from its service — the streamer actually filed a countersuit against Word Collection and Spoken Giants, the collective representing Carlin, Williams, Lewis Black, Bill Engvall, and several other big-name comics wanting their fair share. 
What's Pandora's problem? The comics are price-fixing, Big Baby Pandora whined, complaining that a comedy "cartel" was cooking up "an anticompetitive conspiracy to corner the market on the rights to routines from popular comedians." Come on, argued Pandora, no self-respecting comedian would risk asking for more cash if it wasn't for the Spoken Giants/Word Collection scheme to corner the market on recorded laughs. 
Wait, what? No comic would ask for more money?
That was basically the judge's reaction when it called BS on Pandora. In dismissing the streamer's lawsuit, U.S. District Judge Mark Scarsi ruled that it's "hard to comprehend why 'superstar' comedians would be afraid to risk seeking a supracompetitive royalty armed with the knowledge they are among the pantheon of 'must-have' comedians to run a viable comedy streaming service." 
So what does this decision mean for the future of comedy streaming? Spotify made headlines back in 2021 for removing albums by Mulaney, Patton Oswalt, and others — quietly, a percentage of those tracks have reappeared but artists like Sarah Silverman and Chris Rock are still being muffled. Pandora, which used to feature robust comedy channels, is down to a handful of known artists with no known plans to build those channels back.
Word Collection and Spoken Giants are still moving forward with lawsuits against Pandora, alleging it hasn't paid represented comedians a "fraction of a penny" for streaming their material. There's one simple solution out of this mess, Spotify and Pandora, and we've suggested it before — pay the frickin' comics.
Scroll down for the next article