Unky Herb: An Oral History of Homer Simpson's Long Lost Brother
Even at 4-foot-10, Danny DeVito is a pop-culture colossus. He's an integral part of the ensemble of two of the most beloved comedy television series of all time. He's a brother to Homer Simpson, and a friend to Nicholson, Douglas and Clooney. And he's an underrated auteur whose dark comedies showed that his pursuit of laughs was actually a quest for meaning and purpose. In honor of his turning 78 — in his native New Jersey, his birthday, November 17th, is now an official state holiday — we pay tribute to this short king of (short) kings with a week dedicated to his most indelible work and the cultural footprint he continues to blaze.
"Pull your chair closer, my son," Grandpa Simpson says to Homer from his hospital bed after suffering a heart attack. "There's something I think you should know: Homer, you have a half brother." 
From there, Grandpa Simpson recounts how he had an affair with a carnival worker and that their baby had been put up for adoption. Afterward, Homer goes to the Shelbyville Orphanage and discovers that his brother's name is Herb Powell, and that he resides in Detroit.
When the Simpson family meets "Unky Herb" in the Season Two episode "Oh Brother, Where Art Thou?" he's the successful CEO of a car company. And while he's surly and cantankerous to his employees, he is surprisingly tender to Homer, Marge and the Simpson kids. He even entrusts Homer with designing "a car for the average schmo." 
Unsurprisingly, Homer's idea for the car is so bad that it bankrupts Herb's entire company, and when we see him again in the Season Three's "Brother, Can You Spare Two Dimes?" Herb is homeless. Ultimately, though, Herb picks himself up by his bootstraps, and with a bit of borrowed money from the Simpson family, he gets back on top by inventing a baby translator. 
Herb Powell, of course, was voiced by the legendary Danny DeVito. In fact, DeVito was among the first big celebrity voices to guest on the show — a winking gimmick that continues to this day. He was bestowed Simpson DNA by the show's co-creators, James L. Brooks and Sam Simon, but it fell to writers Al Jean and Jeff Martin as well as director Wes Archer to make the family reunion happen, each of whom recounts below how they brought these two long-lost brothers back together. 
* * * * *
Al Jean, longtime Simpsons writer and showrunner: Early on in the show's run, we had heard that Danny DeVito wanted to be on it. We were just thrilled. Sam Simon called in me, Mike Reiss and Jeff Martin to pitch out the episode "Oh Brother, Where Art Thou?" which got its name from a Preston Sturges movie. 

I don't recall who said it — it was probably Sam or Jim Brooks — but one of them said, "It'd be funny if DeVito was the voice of Homer's brother." From there, we had Jeff write the episode. 
Jeff Martin, writer of "Oh Brother, Where Art Thou?": "Oh Brother Where Art Thou?" was only the second episode of The Simpsons that I wrote. The whole episode was very rushed. My main memory is that I wrote the first draft in about 48 hours, and we rewrote it in 24 hours. 
I just rewatched the episode for the first time in decades, and I noticed that it wasn't that dense with jokes. That said, I tend to think that with most of the episodes from those first two years. At the time, people were saying, "There's so many jokes," but if you watch it now, it seems a little slow-paced. The humor of some of those scenes really took its time in those days. I'm not saying it was better back then, just different.
Neil Arsenty, creator of the On This Day in Simpsons History Twitter Account: Seasons One and Two of The Simpsons are quite different in terms of pacing. Things really pick up speed in Season Three, which is what most people consider to be the start of the Golden Age of The Simpsons. "Oh Brother, Where Art Thou?" is still a classic and beloved episode, though.
Martin: The story definitely holds together emotionally. The main credit for that goes to Jim Brooks. Back then, I didn't necessarily see what Jim was getting at in the beginning of the episode when Herb is talking to his board of directors about how he doesn't have any roots and how he's a lonely guy. But now I can see that he was trying to lay the groundwork for who Herb is. Here's this guy who's an orphan, so when he suddenly gets this family, he's in love with it. He's so in love with it, in fact, that he totally neglects his business and doesn't even check in as Homer is designing this car. 
By the way, the design of "The Homer" was very much mine. It was very much my idea of what a cool car was when I was a kid. For Christmas 1968, the main Hot Wheels car I wanted was "The Beatnik Bandit." It had a bubble dome and the coolest name ever. You can draw a very straight line from "The Beatnik Bandit" to "The Homer."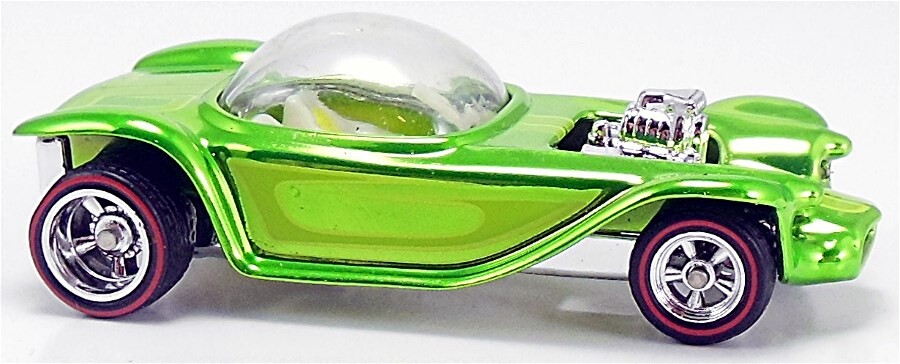 Also, when they did the storyboard for the episode, when Homer is taking control of the design and he draws the car and snaps it up on the board and points to it sternly, I remember circling it and writing, "This is my favorite storyboard drawing ever!"
Wes Archer, director of "Oh Brother, Where Art Thou?": I remember it being really difficult to animate the car spinning around. There was no CGI back then, so it was a very difficult shot and revealing the car was the big moment of the show, so it had to look good. 
Arsenty: DeVito was one of the very first big guest stars to appear on The Simpsons, which helped to set the stage for a lot of big names to come. It was also advertised to be a big episode at the time — there are a lot of newspaper ads and things like that announcing that DeVito was going to be Homer's brother.
Jean: Danny came to the table-read, and he was fantastic.
Martin: Danny threw himself into the part, and it certainly fit him well — that working-class simmering volcano. DeVito is always good at playing the angry guy, but looking back, I was struck by how much it leaned into him as a guy who never had a family. It's touching.
Jean: After the episode aired, Jim came in and said, "I watched the first one and I really liked it, but we made a mistake: We didn't have Herb start to come back up at the end. He's ruined by Homer, but there should be something he gets an idea for right at the end of the episode and you see him start to come back up." That was the genesis for "Brother, Can You Spare Two Dimes," which John Swartzwelder wrote.
Arsenty: That episode, which was from the end of Season Three in 1992, was the last time we saw Herb Powell until a quick little answering machine cameo in 2013. Since Herb is Homer's brother, a lot of people wonder why we haven't seen more of him.
Martin: I don't know why we haven't seen more of Herb. But I haven't really thought about it either. Honestly, I was surprised he got a second episode.
Jean: The way our scripts work is that we have a regular cast, so we'll put a character like Moe in every episode because Hank Azaria is already there. If we wanted to bring Herb back, we'd need to have an episode worthy of bringing Danny back, and we just haven't had that yet.
I do have another idea for him, though: I think it'd be funny if the car Homer designed for Herb is suddenly this incredible classic, and DeVito tries to get Homer back to make more of them. I don't know if we'll ever do it. But we'll see.
Scroll down for the next article