7 Silly Strategies Animals Use To Survive
All adaptations, whether by "natural evolution" or by the urban rodent race, evolved for two reasons: to punk some punk-ass fool or to avoid being punked by an entity as such. Fortunately, there are many ways to arrive at said junctures; otherwise, our beloved Sir David Frederick Attenborough would be reduced to narrating CS:GO  tournaments and NFT auctions.

Not all animals have the advantage of jaws, claws, and guffaws (hyenas), and some have lucked into the stupid but satisfactory strategies detailed below. So remember, according to theoretical meta-string scientists, our entire existence is simply a hologram of a 2D reality secretly occurring across a black hole's juicy butt.

African Wild Dogs Practice A Sneezing Democracy

Many ancient Greek inventions have been fine-tuned, including Archimedes' steam-powered Handjob Engine, now known as the CNC punch press. Other innovations have stagnated, as per the democratic ideal that consists of a few liver-spotted white dudes embezzling silver-mining profits. Maybe we should look elsewhere for inspiration, like the African wild dogs who practice what may be the world's truest democracy.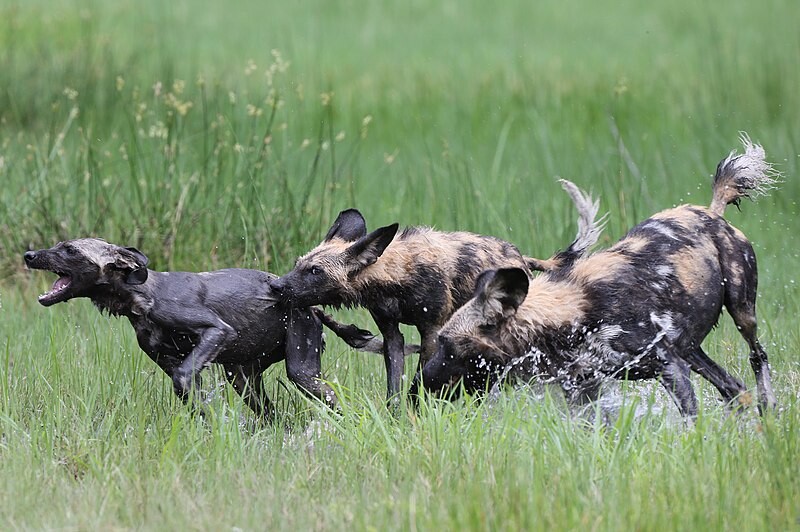 Evolutionarily, African wild dogs said sayonara to other dog types around 1.7 million years ago. Still, they prove that awww who's my precious smart little barskter? You are! Yes, yoooouuuuu! is not exclusive to domesticated species.
AWDs live in tightly-bonded packs of up to around 40. They communally care for pups and the needy and sleep all day piled up on each other, as old Speedy Gonzalez cartoons (and "modern" FOX news) told me that all Latin-speaking people do.
 More importantly, these African arf-meisters practice democracy via sneezing quorum, which is one of those "science weirder than fiction" sentences. Researchers researching unrelated wild dog relations noticed excessive sneezing but, alarmingly, no "bless you."  So they recorded 68 "social rallies" across five dog packs in Botswana, discovering that dogs hold a sneeze-vote before hunting. And that dominant dogs' sneezes count more—a cornerstone of Western democracy.
If a dominant pair or alpha female (it's a matriarchal society) initiates the voting, it only takes about three sneezes to decide. But if a non-dominant individual starts the vote, it requires about 10 sneezes to reach a consensus, mirroring the voting process of the Nordic countries. 
Scroll down for the next article