15 Behind-the-Scenes Facts About Onscreen Food
Eating is one of the best parts of the human experience, which is why a not-insignificant share of our art involves pizza. Shooting around a product that decays faster than our souls is no easy feat, however, so the behind-the-scenes details of food in movies and TV shows can get weird, exasperating, or just plain disgusting.
Eat Pray Love
After filming the scene of Julia Roberts eating spaghetti all'Amatriciana, the crew realized they'd forgotten to get the all-important close-up shot of parmesan being sprinkled on top, which symbolizes how delicious parmesan is. The spaghetti had already been thrown away at that point, so they just dug it back out. That's right: You're looking at trash pasta.
Indiana Jones and the Temple of Doom
The chilled monkey brains served at Pankot Palace were supposed to be a horrifying moment of cultural superiority, but they were probably actually delicious. They were just made of custard and raspberry sauce.
E.T. the Extra-Terrestrial
In one of the few candy-dependent plots in film history, E.T. is lured to the Taylor house with Reese's Pieces, but they were going to be M&Ms before, ironically, Mars turned them down, not wanting to commit to an expensive tie-in campaign based on a monster that might scare tiny sugar addicts. Hershey was reluctant at first as well, but they actually sent an executive to see the creature who confirmed that he was cute enough to shovel candy into children.
Spider-Man
There's no CGI in the scene of the 2002 movie where Toby Maguire catches Kirsten Dunst's entire lunch after she trips. His hand was glued to the tray so he wouldn't drop it, and some items were glued to their plates, but it took 156 takes and 16 hours for him to catch every item. Honestly, they probably should have just used CGI.
Willy Wonka & the Chocolate Factory
The chocolate river was really chocolate -- well, chocolate powder mixed with water, which smelled awful after "sitting there for three weeks" under the hot studio lights. The actor who played Augustus Gloop described it as "terribly cold" "stinky water," and another actor described seeing the crew empty their coffee cup dregs into it. Basically, it was hot curdled garbage water.
The Harry Potter Series
Speaking of stank, all that delicious-looking food in the Great Hall feast scenes of the first two films was real so the actors could eat it -- on the first day, at least. Shooting the scenes often took three or four days, and the food was just left sitting out all that time, so eventually, the set smelled worse than Hagrid's underpants.
Game of Thrones
Horse girls, rejoice: Emilia Clarke didn't actually have to eat a stallion heart while filming Game of Thrones. It was a gummy bear–like creation made out of "solidified jam," which actually sounds pretty okay, but she said it "tasted like bleach and raw pasta" and made her puke so much over the course of 28 "hearts" that she just kept a bucket on hand, so at least it was realistic.
The Gold Rush
Charlie Chaplin dealt with a similar situation for the scene where he eats a boot for Thanksgiving in The Gold Rush, except way worse. The boot, which was actually made out of licorice, not only imparted "inconvenient laxative effects" while shooting the scene, it actually sent Chaplin into insulin shock and to the hospital to have his stomach pumped. He might have been better off just eating a boot.
Gilmore Girls
You'll never convince fans who watched them gesture wildly for seven seasons, but Laurem Graham swore the Gilmore girls' cups were never empty. If anyone actually drank as much coffee as they did, however, they would die, so Graham's cup was often full of water, and Alexis Bledel always drank soda because she straight-up doesn't like coffee.
Matilda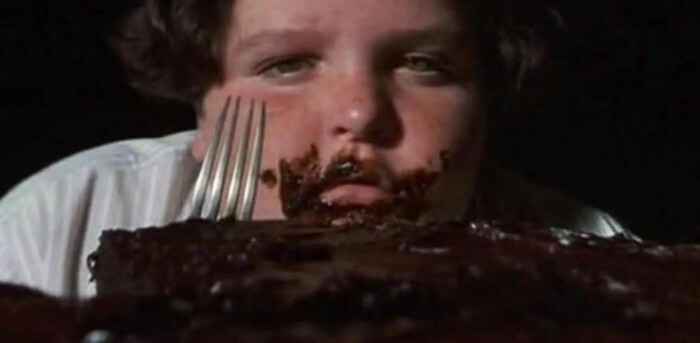 Danny DeVito "like a cake that has sugar in it," so he lovingly provided dozens of the "sweet kind of rich cake" he likes for the scene in Matilda where Bruce Bogtrotter eats an entire chocolate cake. The problem was that he wasn't the one who had to eat it. The actor hated chocolate cake, to the point that he spat it into a bucket between takes, so while his character turned torture into triumph, he was mostly just tortured.
Hook
The Lost Boys' imaginary pie looks like mashed potatoes microwaved with a box of Crayola, but the actor who played Rufio described it as like a thick Cool Whip. There was also some kind of "gray stuff underneath it," but according to Disney canon, the gray stuff is delicious.
Santa Clarita Diet
There were many reasons Drew Barrymore obviously wasn't going to eat people, but one of them was that she's a vegetarian, so they couldn't use something like sushi, either. Instead, she ate a "fun cornucopia" of "dehydrated apples, "this weird edible rubber that tasted like Jolly Rancher," and "a wet cake to be a fake piece of chicken." The worst one, though, was the "raw beef," which was actually "a yucky pasta." Production crews sure know how to ruin pasta.
Harold and Kumar Go to White Castle
Kal Penn is both a Hinduist and general vegetarian, which was a similar problem on the set of a movie about fast food burgers. The crew made him a bunch of vegetarian replicas of White Castle's iconic sliders instead.
Oldboy
Choi Min-sik is also a religious vegetarian, but that did not stop him from eating four live octopuses, though he said a prayer for each one before he did. He ended up needing to eat four because the first three takes were ruined, one because he didn't realize how hard they would be to chew and couldn't stop laughing about it and one because someone tried to help by salting the thing to death first.
So Many Brad Pitt Movies
At this point, Brad Pitt is almost less famous for being handsome than eating all the time for no reason -- usually. In the case of his character in Ocean's Eleven, Pitt explained, "he was always on the run, always on the move, I figured he could never sit down and have a proper meal. So he always had to grab something on the run." Most of the time, though, he just "like to busy self." It's not acting. It's an attention deficit.
Top image: Warner Bros.