South Park at 25: How It Has Vanquished All Streaming Rivals
What started as a rude, animated Christmas card has become Paramount's most valuable piece of comedy IP, bigger than anything this side of Star Trek. And beyond anyone's ability to predict, South Park has somehow made it to a historic 25th season.
"You're talking to two guys who thought we'd be run out of town in '97, '98, '99," says Matt Stone about his partnership with Trey Parker. "That's a foundational attitude."
But rather than being tied to a rail and shown the edge of town, the show's co-creators are reaping the glory of one of the most successful shows in comedy history. You're never going to see the producers of Seinfeld or The Office putting on a 25th anniversary concert with Ween and Primus, for example, but that's just what Stone and Parker are doing. 
"We're so excited to go home and play at Red Rocks, a place that's been known for hosting the most legendary artists and musicians," say Parker and Stone. "Until now."
But 25 years isn't all they're celebrating. Last year, they inked a new deal with ViacomCBS that will pay the cartoon smart-asses more than $900 million over the next six years. The deal will include new South Park episodes for Viacom's Comedy Central and several spinoff movies for its Paramount+ streaming service. Look for all of South Park to migrate to P+ when its current $500 million deal with HBO Max ends.  
(Yeah, we're well over a billion with just the last couple of deals.)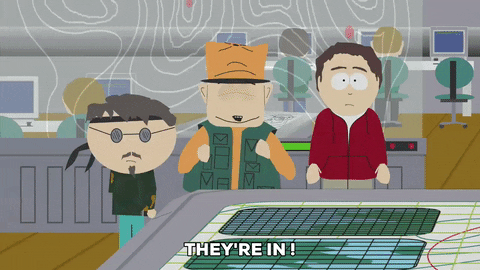 So why exactly are companies throwing this kind of cash at Parker and Stone? The answer is easy: South Park is one of the undisputed comedy kings of streaming.
The Streaming Trifecta
Fifty-three billion minutes. 
That's how many minutes of South Park were streamed in 2021, according to an analysis by Puck. 
That's … a lot, putting it up there with fellow streaming royalty like Friends and The Office. You can practically build a streaming service around shows like these (or at least, Paramount + sure hopes so), with their massive, multigenerational fanbases and many seasons of content to binge. But South Park has something those other two shows do not -- new episodes to keep viewers anticipating what's coming next.  It's a rare trifecta, the kind that results in billion dollar paydays. 
When South Park moves, its audience comes along for the ride.  Even though its new home, HBO Max, has about a third of the subscribers of the show's former home at Hulu, Puck reports that South Park's audience increased in the first few months after migration.
Among American audiences on HBO Max, South Park was the third most-streamed show, behind only Game of Thrones and Rick and Morty (itself a comedy descendent of South Park).
That audience is overwhelmingly guys and overwhelmingly young. If you're over 40 and want current-event comedy, you're watching Last Week Tonight with John Oliver.  If you're under 30, South Park is the undisputed champ, despite being around for as long as most of its viewers. Even before new episodes from Season 25 began dropping, the show ranked within the top 1 percent of all comedy series globally. 
So $900 million almost seems like a bargain if you're trying to make Paramount + happen.  It's one of the only shows out there that could both get people to sign up for a new service and keep them around for years in the future. 
The Future of South Park
If it seems like a long time since you've seen a South Park movie, you're right.  The last (and only) one -- Bigger, Longer, & Uncut -- came out in 1999.  
With Matt and Trey's new deal, that's all about to change.  
"We've never done another one because the show has been so satisfying," says Stone. "We like the way we've been able to do the show. We're like a punk band -- a little rough around the edges and get out fast. Now we're older, and the idea of what streaming movies can be is pretty promising."
If all goes to plan, you can expect to see two new South Park movies this year on the streamer -- and two more each year through 20-freaking-27. Well, maybe not movie-movies. Sounds like they're just going to be their own thing.
"With Viacom, we realized we could make them as long or as short as we needed," Parker says about whatever the new projects are going to be. "And they then went and called them movies. They are the ones who said we are giving them 14 movies in seven years. All I can say is for me, personally, I am 52 years old, I have made three movies in my life. So you do the math."  
But if they're not movies exactly, they're also not extra-long episodes.
"You come up with an idea and realize it's longer than 22 minutes," says Stone. "There are South Park episodes that are high concept enough where if you wanted to make a movie you could. We wanna scratch both itches. We feel like we can."
The first of the movies, er, South Park things dropped on Paramount + last November--South Park: Post-Covid.
"It's the boys dealing with a post-COVID world. They're just trying to get back to normal," Parker says. "So, it is like our show. We're just trying to get back to normal." 
Which character will you probably not see in either the movie-things or new episodes?  Donald Trump.
"He's hard to make fun of," says Stone. "Every comedian was having the same problem. I am so happy he is not around for comedy's sake. He's such a provocateur. That's what a comedian does. He sort of stole our tools. We're all sitting there going, "What do we do?" He's such a buffoon. He's a comedy killer."
For more ComedyNerd, be sure to check out:
Late Night Comedy Sidekicks and Bandleaders: The Good, The Bad and the Ugly
The New 'Saved by the Bell' Is Better Than We Thought Possible
Whose Line is it Anyway?: 15 Absolutely Bonkers Moments
For ComedyNerd exclusive content and more, subscribe to our fancy newsletter:
Top image: Paramount
Scroll down for the next article