'Brooklyn Nine-Nine': 15 Behind-The-Scenes Facts
Welcome to ComedyNerd, Cracked's daily comedy Superstation. For more ComedyNerd content, and ongoing coverage of the Iran/Contra Affair, please sign up for the ComedyNerd newsletter below.
From the peppy Jake Peralta to the deadpan Captain Holt, fans everywhere were sad to see the lovable cast go after their eighth and final season wrapped up in September 2021.
Overall, the show kept things lighthearted and comfortable, but the final season heeded fans' call to address police brutality while somehow still keeping things funny. To help look back on those eight memorable seasons, here are 15 behind-the-scenes facts about Brooklyn 99.
Scully and Hitchcock are named after the show's producers.
A fun way of calling themselves useless.
Detectives Norm Scully and Michael Hitchcock make no attempts to hide their laziness and down-right uselessness. Having seen their share of action back in the day, they are now content to nap in the break room.
The pair are named after the writers and producers of Brooklyn Nine-Nine, Norm Hiscock and Mike Scully, who were also consulting writers on Michael Schur's previous sitcom, Parks and Recreation.
The character of Gina was created specifically for Chelsea Peretti.
Chelsea Peretti had been known as a stand-up comedian and writer for Parks and Recreation. She appeared as Zelda, a citizen of Pawnee, in "Live Ammo," an episode that she co-wrote.
Michael Schur must've definitely taken a liking, because he created the role of Gina specifically for Chelsea Peretti, incorporating her real-life character traits in the character
Chelsea Peretti breaking character became part of Gina's character.
See. Gina really is based on Chelsea.
Chelsea Peretti laughed during takes so often that, to help keep the shoot moving, that they just made Gina's laughing part of her character. Andy Samberg said, "Chelsea stopped trying. It kind of became part of her character, that her character was always laughing."
Peretti said one of the hardest scene to get through without laughing was when when Captain Holt was boring the squad at the beach house.
Andy Samberg almost passed on the show.
It's hard to imagine Brooklyn Nine-Nine without Andy Samberg as Jake Peralta, but when he left Saturday Night Live in 2012, Andy Samberg wanted to focus on a movie career.
After reading the script and seeing what Michael Schur's Parks and Rec did for Amy Poehler's career, he felt the opportunity was "too good to pass up."
Butt McGee
And… cut. Cut! I said cut!
The cast affectionately calls Joe Lo Truglio "Butt McGee", because when he starts riffing during a scene, he doesn't know when to stop.
Most comedy nerds will know that the joke at the end of scene is called the button. So, they came up with that nickname for Joe because he "always tries to add one more at the end." 
Andy Samberg & Chelsea Peretti grew up together.
So wait, not one, but both of you got famous?
Andy Samberg and Chelsea Peretti went to elementary school together, and Chelsea later admitted on Conan that she had a crush on Andy growing up.
"We went to elementary school... I had a huge crush on Andy and he for some reason will never acknowledge this, when I bring it up he just dead-eyes me. I used to call his house on like those old-timey phones that we used to have. I would call and hang up, call and hang up, as some young girls do. Irritating young girls."
Terry Crews was a professional artist.
The NFL and an art career? What can't he do?!
As Terry Crews explained on Jimmy Kimmel Live, at just 18 years old, his first job was drawing courtroom sketches for the worst murder case in Flint, Michigan's history.
Before playing football or acting, he sent his sketches to Disney in the hopes of landing a job.
Jake is a die hard Die Hard fan because of Andy.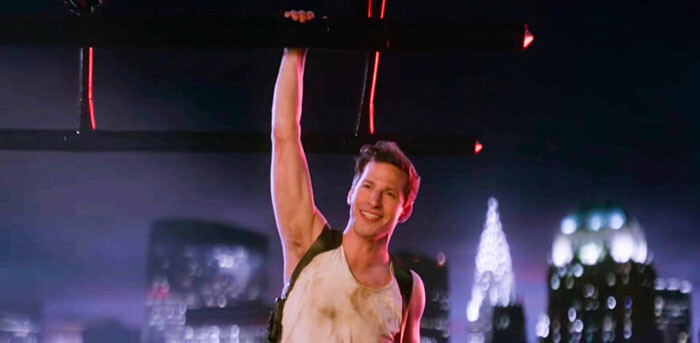 They tried to get Bruce. They tried so hard.
Jake Peralta has a love (an obsession) with Die Hard because Andy Samberg is a massive fan.
On The Tonight Show, Jimmy Fallon made it a point to mention that Bruce Willis actually watches the talk show, so Samberg's plea may not go unheard. Jimmy looked into the camera and addressed Willis, and said, "Trust Andy. Anything he does is great."
Producers thought that maybe he was waiting for the end to surprise them, but… No go.
Melissa Fumero and Stephanie Beatriz were worried at first.
Representation matters.
When Melissa Fumero and Stephanie Beatriz first booked the show, they were worried one of them was going to get fired, because they'd never seen a show with two Latina leads.
Melissa said, "We talked about wearing our hair really different in the pilot, just stupid things that now seem so ridiculous. But we were really scared."
"We were like, 'They'd never take two of us. There's always one, and they are gonna off one of us for either another ethnicity or for like a white girl."
The "stank breath" competition.
To fans, Jake & Amy's relationship was up there with Jim & Pam and Leslie Knope & Ben Wyatt.
Jake and Amy finally kissed in season 2, episode 23, and to try and make kissing a friend less awkward, Melissa Fumero and Andy Samberg had a competition to see who could have "the most stank breath".
They ate wings and roasted garlic.
NBC picked up when Fox left off.
In 2018, after season 5, Fox canceled Brooklyn Nine-Nine, but the following day NBC picked it up, and the show enjoyed 3 more seasons.
Fans and celebrities like Lin-Manuel Miranda and Seth Meyers rallied to save the show, when Fox announced the cancelation, and Lin-Manuel Miranda was perhaps the most vocal about saving the show.
He tweeted his outrage, and was rewarded with a guest appearance on the show during season six.
Kwazy Cupcakes is a real game now.
Poking fun at the Candy Crush phase, the characters of Brooklyn Nine-Nine got addicted to the mobile game Kwazy Cupcakes.
Because fans went on the hunt for the game, Red Games Co. made it, and you can try your hand at it in the app store.
Captain Holt's iconic "Hot Damn" moment was improvised.
Let's try one more, and… Okay, wow. Yeah, that's gold.
As many comedies do, Brooklyn Nine-Nine shot the scripted version of scenes, then allow for a few improvised takes to try and capture something new.
In rare cases, an improvised moment becomes a classic, and in this case, Andre Braugher just went for a solid, "Hot Damn!"
Before acting, Melissa Fumero was a dance teacher.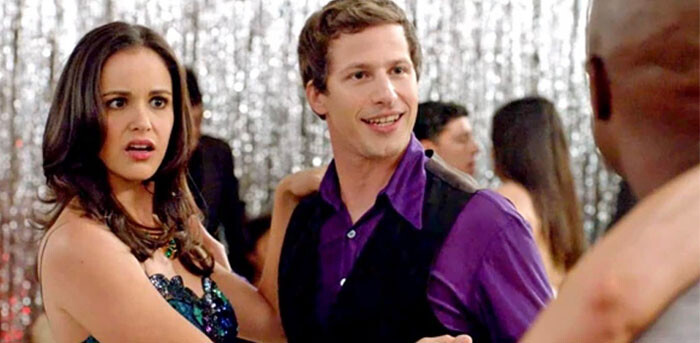 Her character might be comically terrible at dancing, but Melissa Fumero is actually a professionally trained dancer. She was a dance instructor until her late twenties.
She said, "I was a serious dancer all the way into my late 20s, and I was pretty fierce. Like a little ballerina contemporary-modern chick." She even worked as a ballet teacher when she was in high school.
Rosa's bisexuality storyline was based on Stephanie Beatriz's real life.
Stephanie Beatriz said, "Dan Goor is not only a brilliant writer, but a person who believes in equality. He wanted a bisexual person's voice to be heard in that storyline, and it just so happened that the person playing the character they wanted to be bi is also bi."
"I was thrilled," Beatriz said. "It reflected, for me, the reality of my own life."
Top Image: Fremulon & 3 Arts Entertainment