Turn Your Dad Into The Swedish Chef With These Father's Day Deals
This piece was written by the Cracked Shop to tell you about products that are being sold there.
We can all agree that the world needs more of The Muppets' Swedish Chef, right? Well, if your dad has a sweet mustache and big eyebrows, he might already be well on his way! You just have to get him in the kitchen, and these Father's Day deals will help you do it. Save an extra 20% off when you use code WELOVEDAD and remember, Father's Day is June 20! Culturally insensitive accent not included.
Smokeless Non-Stick Indoor/Outdoor Grill, $15.99 (reg. $49) with code WELOVEDAD
Most dads have a hankering for grilling that just can't be cured by anything except the sweet hot sizzle of meat on the barbie. On a rainy day, dad's gonna need to scratch that itch somehow, so get him this smokeless indoor/outdoor grill.
AirProbe2 with Charging Dock, $54.39 (reg. $79) with code WELOVEDAD
Don't let the Father's Day festivities end in salmonella-related tragedy. The AirProbe2 gives you precise readings of meat's internal temperature right from your phone so you never have to get your hands in the fire or even leave the patio set. That's where the beer is.
Cheer Collection 7-Piece Food Container Set, $18.39 (reg. $39) with code WELOVEDAD
If your dad got weirdly into Marie Kondo during quarantine, help him spark joy with these airtight, space-efficient, stackable containers in four versatile sizes. Even if he doesn't understand what "visual noise" is, he'll at least appreciate less stale cereal.
Yedi "TRUDY" Mini 2-Quart Air Fryer, $31.99 (reg. $59) with code WELOVEDAD
If dad has a neighbor who just won't shut up about their new air fryer, help him reclaim his top dog status with this budget-friendly appliance. The economical air fryer can air fry at temperatures from 180 to 400 degrees and has up to a 30-minute cooking timer so you can fry anything quickly. Yes ... anything.
Finamill(TM) Bundle, $34.39 (reg. $54) with code WELOVEDAD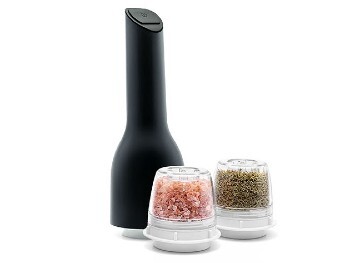 Spice up dad's life with the Finamill, which is kind of like the Nespresso of spices. Just load it with spice pods, which the Finamill grinds down into incredibly fresh, delicious flavor specks. This bundle comes with three pods and three AA batteries because nobody likes opening a toy they can't use immediately.
Curtis Stone Sous Vide Cooker & Beverage Chiller, $37.59 (reg. $99) with code WELOVEDAD
Sous vide cooking has made the leap from Michelin star restaurants to ordinary kitchens. This 2-in-1 device will help you cook meals, sauces, and desserts to perfection, sous vide--style. Just seal your food in a food-safe bag, place it in a pot filled with water, and get sous viding.
Thai Chefs Moon Knife, $47.99 (reg. $70) with code WELOVEDAD
Who says the Swedish chef can only use Swedish tools? This clever knife/cleaver hybrid famously used in Thai markets will make Dad a culinary citizen of the world and can't be found at IKEA.
Angle Pro Knife Sharpener with Angle Gauge, $55.99 (reg. $199) with code WELOVEDAD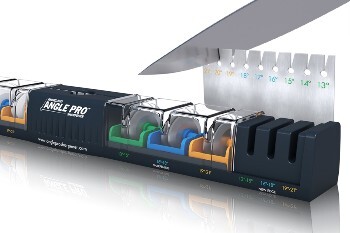 Why get your knives professionally (and expensively) sharpened when you can just do it at home? This professional tool makes it easy for anyone to sharpen knives and extend their lives. (You know, the knives' and his. Dull knives are dangerous.)
Ronco 20-Piece Knife Set with Hardwood Block, $59.99 (reg. $129) with code WELOVEDAD
A dad chef is only as good as his knives, so be the best child you can by giving him this massive kitchen upgrade. The beautiful hardwood block is packed with 20 knives for all kinds of professional purposes (and some unprofessional ones, but we're not responsible for any prank-related shenanigans).
20-Piece Non-Stick Cookware With Lids & Bakeware Set, $143.99 (reg. $250) with code WELOVEDAD
If Dad's been using the same mismatched set of pots and pans he's had since college because "they still work," give him the gift he'd never get himself with this beautiful 20-piece cookware set.
Fremont Wood Fire Pizza Oven, $223.20 (reg. $368) with code WELOVEDAD
There are few things dads love more than pizzas and backyards. Combine them at last with this portable oven, which only takes 15 minutes to heat up and three to four minutes to cook the perfect pizza. That's, like, 15 pizzas per hour, so start training now. You'll need to keep up.