Alfred Pennyworth; Batman's most trusted confidant who still has to cook, clean, and launder his soiled underpants. In his over 80-year history, Batman's faithful butler has had many incarnations ranging from a doddering old man, to a TV's newest horny young superspy. One of the most memorable Alfreds of recent years can be found in Christopher Nolan's Dark Knight trilogy, featuring the legendary Michael Caine as comics' greatest manservant. Caine's Alfred is warm, nuanced, and in retrospect, surprisingly unhelpful.
Throughout the series, Alfred weirdly ping-pongs between aiding Bruce Wayne and throwing shade at nearly all of his life choices. In Batman Begins, Alfred is understandably conflicted; he wants to be loyal and supportive of his surrogate son, but he also isn't thrilled with his ideas about dressing up in a black rubber jumpsuit and wailing on gangsters in the middle of the night. Then in the follow-up, The Dark Knight, Alfred is his full-on partner-in-crime-fighting. He helps arrange Bruce's secret expedition into Chinese airspace.
Warner Bros.
For some reason, Alfred's biggest concern with their highly illegal scheme that violates international treaties and could, for all we know, lead to World War Three seems to be that a yacht-full of young Russian ballerinas will relentlessly throw themselves at him -- because who can resist a crotchety butler in his mid-seventies?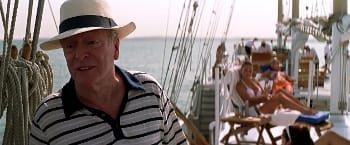 Warner Bros.
Warner Bros.
But even in the midst of all this, Alfred still can't help but shoehorn in some backhanded criticisms of Bruce's decision to become Batman, like a parent's failed attempts to seem chill about their child dropping out of medical school to pursue improv comedy. When Bruce claims that the mob crossed a line, Alfred quickly adds that Bruce "crossed it first". Then he launches into his famous monologue about a ruby-chucking bandit he once encountered in Burma.
While this gives Michael Caine something to do other than bristle at the thought of spending the week on a sun dappled luxury boat surrounded by half-naked women, it doesn't really help the situation much. Alfred's comparison is flawed; yes the Joker's motivation is skewed, he cares less about money than seeding chaos. But Batman is right to be searching for what the Joker "wants" -- the Joker's not simply chucking tangerine-sized jewels in the dirt for "sport" he has an intricate series of meticulous plans to bankrupt the mob, seize power and terrorize Gotham.
Also, back up, what exactly is the backstory of this Alfred? We know he may have been in the military in his youth but why was he in Burma bribing "tribal leaders" for the British colonial government? And why was he then tasked with assassinating a random thief? Later, Alfred reveals that they caught the bandit by burning the forest to the ground. Which is a pretty fucked up thing to admit, Alfred.