So when Thanos collects the Infinity Gems and wipes out half the universe in the comics, it's not out of some misguided plan to free up resources for everyone. It's because he's trying to impress his crush. Here's Thanos, now the most powerful being in the universe, apologizing to Lady Death for taking too long with his little errand of interstellar genocide:
Marvel Comics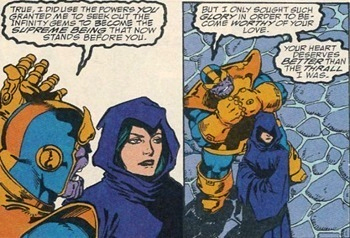 Marvel ComicsYou know, she looks much better with makeup.
Yeah, Thanos in the comics is pretty much a lovesick teenager who also happens to be omnipotent. Unfortunately, it turns out he's too powerful for Death, who now considers him her superior and thus can't become his mate. You know, the old "can't date you, you're too cool, and also I'm washing my hair" excuse. Thanos reacts to being rejected by moping around and letting loose a single sad, lonely tear.
Marvel ComicsHe then went home, blasted some My Chemical Romance, and cried into his pillow.