It's official: Ben Affleck is no longer Batman. And while the internet is already busy dreaming up who his replacement should be (presumably a CGI Adam West with the voice of Kevin Conroy), we'd like to take a moment to appreciate the wonder that was Bat-fleck. Seriously!
Admittedly, Affleck seems like kind of a questionable person. There's the awkwardly creeping on female reporters, the publicly ranting about Deflategate, and the giant back tattoo that looks like something you'd expect from Harry Potter's midlife crisis. And the movies he was actually Batman in, as we've mentioned once or twice, were pretty damn stupid. But even while Holly Hunter was drinking jars of urine and Jesse Eisenberg was raving like a coked-up trust fund kid pitching a new brand of energy drink, Affleck was doing solid work.
Take his first Bat-appearance in Batman v. Superman: Dawn Of Justice. Part of the problem with that movie was that almost all of Affleck's motivation doesn't make any sense until after you've seen it. Every crazy decision Batman makes is in response to a backstory that's never explicitly discussed onscreen. As the movie progresses, we see that not only has Wayne Manor been destroyed, but also that Bruce displays a Robin costume which has been graffitied by The Joker -- the implication being that Robin was murdered.
Warner Bros.And also that Batman is the world's most depressing interior decorator.
If we take that into account, Bruce's irrational behavior starts to make way more sense, beginning with his hatred for Superman. It doesn't just come out of nowhere; Supe's brawl with Zod almost kills a kid. And seemingly orphaned her, not unlike young Bruce himself. He manages to save the tyke, but clearly that pushed a button. You can see in Affleck's rage-filled eyes that he's funneling all of his trauma into hating the shit out of Superman.
Warner Bros.
We also see Batman branding criminals, a distinctly un-Batman-like thing to do. But it's not just any criminals; it's human traffickers who have been enslaving teenagers. Again, Batman is acting out of character because kids are being hurt. When discussing Superman, Alfred remarks that the "feeling of powerlessness turns good men cruel." And it's clear he's not just talking about flying aliens.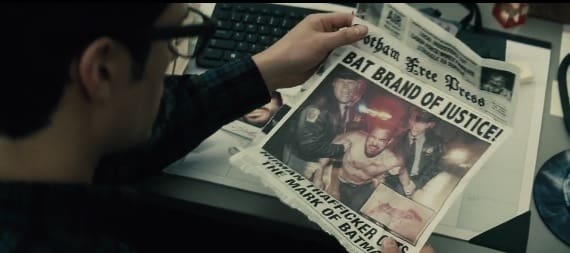 Warner Bros.