The Guy Everyone Loves Is Supposed To Be Awesome, But He Comes Off As A Total Creep
Early on, we learn that late OASIS creator James Halliday set up an elaborate Easter egg hunt inside the game. Whoever wins the hunt inherits the whole damn company (in legal circles, this is known as a standard Wonka clause). We're seemingly meant to admire Halliday, as everyone on Earth effectively worships him. The only problem is that he's a dick.
For one thing, despite the fact that he was a painfully shy introvert, Halliday's puzzles involve memorizing the minute details of his personal life, which you'd think would be an introvert's worst nightmare. Our heroes actually solve these puzzles by watching recreations of his memories stored in a virtual library, tended to by a robot curator. What says "fun treasure hunt" like poring over the banal day-to-day activities of a sad middle-aged nerd?
Warner Bros. Pictures"He pretty much fills out health insurance paperwork for the next three hours, but hey, you never know what was meant to be a clue."
Unsettlingly, Wade and his friend discover that Halliday was obsessed with a woman after they went on a date once. It didn't work out and she ended up marrying his business partner, so quite reasonably he ... created a digital avatar of her and put it in a recreation of the Overlook Hotel, where she's forced to dance with zombies for all eternity.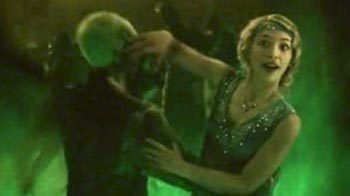 Warner Bros. Pictures"So are we really supposed to program the co-founder's wife into an eternal living nightmare? Isn't that a tad unprofessional?"
"Shut your mouth before you get us both transferred to working on the ball-kicking suit."