While China is seemingly trying to trick audiences into thinking that Venom is voiced by Hugh Grant, Sony Pictures India tweeted out humorous texts between Venom and his mom, who assumes that he's hammered -- which is either a one-off joke or a spoiler for the eventual twist that Venom is merely a delusional preteen experimenting with wine coolers for the first time.
Even in the U.S. we're getting a surprising number of wacky Venom promotions, such as Venom's failed bid to become an NFL mascot in an ESPN commercial featuring channel personalities Charles Woodson and Randy Moss, as well as the CGI technology of a mid-'90s SyFy Original Movie.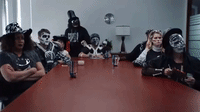 Sony/ESPN"Coming in 2020: Venom versus Cleatus the Football Robot."
And Walmart is selling "Venomized" copies of beloved movies, meaning you can now get Ghostbusters with black goop obscuring the cover art. Deadpool 2 offered a similar promotion, with the wisecracking hero "photobombing" the DVD art for movies like Fight Club and Cast Away. But Deadpool is a comedic, fourth-wall-shattering character, whereas Venom is a straight-up monster played by Tom Hardy doing an inexplicably discomfiting American accent. At least we were spared a Denny's tie-in featuring human-shaped chicken fingers?