The British Lancaster Bomber had one makeshift chemical toilet sitting out in the open, right in the middle of everyone, and it would constantly overflow. That's bad enough, but when they hit turbulence, the laws of physics teamed up with the vengeful toilet to give as good as it got. That dramatic closing monologue about young Gunner Wilson's bravery is spoiled a little bit when you zoom in and see the toilet paper behind the pilot's ear.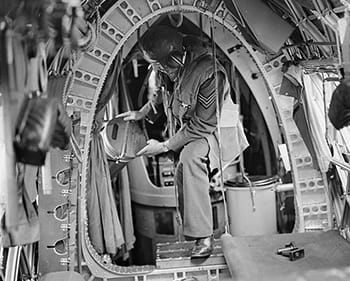 Devon S A/Royal Air ForceExcept that there's no way toilet paper would be discarded like that. That stuff was precious.
Peeing in modern-day jets isn't much easier. At least two F-16 pilots have crashed while trying to go. Pilots have to stay well-hydrated to withstand heavy G-Forces, and there are only so many ways a human can relieve themselves while strapped into a tiny bubble. They have to either take a "piddle pack" up in the air with them, or hook up "relief tubes," which are exactly what they sound like. Imagine Luke Skywalker bravely hopping into his X-Wing, checking all the thrusters, hearing Obi-Wan's voice in his ears, then hooking up a tube to his wang. Imagine it, damn you!