But to think that Star Wars fans were united in their opinions up until this moment would be flat-out wrong. Even The Empire Strikes Back, arguably the greatest entry in the series, prompted a multitude of angry reactions. Many have been immortalized in the pages of Starlog Magazine, and some complaints seem to run parallel to the Last Jedi hate. While today's fans rejected the idea that Rey's parents were nobodies, people back then didn't believe Vader was really Luke's father:
Some fans were "downright resentful" of the film's now-classic cliffhanger ending. One letter highlighted the litany of unanswered questions -- not just Boba Fett loading Han into his space-trunk like a piece of IKEA furniture, but also what the hell happened to Bespin? Is Lobot OK?
Speaking of Lando, today his inclusion is generally considered a positive step (a baby step, but still) toward better representation in blockbusters, but not everyone saw it that way:
Han Solo's chauvinism didn't go unnoticed by female fans, either. One woman specifically thought Leia should get with "nice guy" Luke instead of "hot-lips" Han, which is apparently how people talked in the early '80s:
And the iconic "I love you" / "I know." exchange between Han and Leia? Another woman pointed out what a total dick move that was: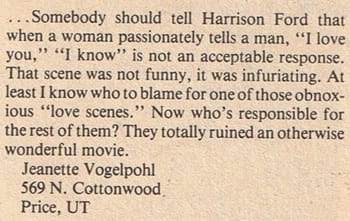 It's also worth noting that Starlog's review was titled "The Empire Strikes Out," so you can probably guess how it went. And speaking of Starlog ...