All of this led up to The Avengers, which gives the MCU its own 9/11-like incident, which comes to be known as "The Battle of New York." The impact of that event is felt in almost every ensuing movie, from Tony's PTSD to Spider-Man: Homecoming's villains scavenging the rubble for alien technology. The next phase of the MCU is all about the fallout from the attack.
Not unlike in real life, S.H.I.E.L.D.'s reaction is to over-militarize and infringe on people's civil rights. Directors Joe and Anthony Russo specifically called out Obama's "kill list" and use of "preemptive technology" as the inspiration behind S.H.I.E.L.D.'s problematic plan in Captain America: The Winter Soldier.
Marvel Studios
Marvel Studios"Like if Fox tries to make any new Fantastic Four movies."
Now, these are all fair criticisms to make, but then the movie takes a left turn into crazy-town. We soon find out that S.H.I.E.L.D. has been secretly controlled by Hydra for years! They had infiltrated the organization from the beginning! A secret cabal of Nazis is running the damn government!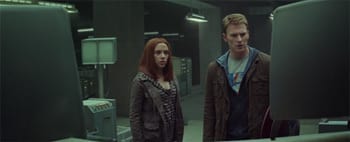 Marvel Studios
Marvel Studios"Hey Carl, really killer work on that Capitol Building / Skull Squid logo." -- Hydra graphics department meeting
Even Garry Shandling turns out to be a friggin' Nazi.
Marvel Studios
Marvel Studios"Uh, you want some gum?"