It's been almost ten long years since Tony Stark first donned the Iron Mansuit to battle ... Jeff Bridges? Wow, the first villain of the Marvel Cinematic Universe was a 60-year-old stoner? In any case, Iron Man paved the way for the Avengers to finally assemble on the big screen, first to fend off an invading alien army, then to take on a sassy robot that Tony invented in his spare time. Now, as a decade's worth of storytelling culminates with Avengers: Infinity War, it sure is tempting to take a look back at all the movies that led here -- although it's less tempting to camp out in theaters for a 31-hour movie marathon capped off by Infinity War, presumably in a urine-soaked seat and with only the vaguest recollection of what daylight is.
AMC TheatersIncluding movies such as Thor: The Nap World and The Incredible Poop Break.
When you put these movies together, the overarching story is ... pretty odd. As a whole, it feels as though the reality of the MCU is inadvertently one in which every crazy internet conspiracy theory you've read actually comes true -- less like our world and more like an Alex Jones fever dream.
Back when the first Iron Man came out, it was clear Marvel was working through some post-9/11 anxieties. The inciting incident is an attack by Middle Eastern terrorists ...
Marvel Studios
... which leads Tony to build the Iron Man suit and ... violently intervene in the Middle East.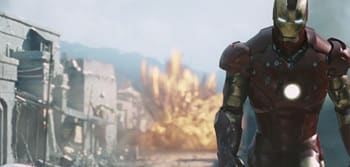 Marvel Studios"JARVIS, activate 'Mission Accomplished' banner."
This was at the tail end of the Bush era, but by the 2010 sequel, uneasiness around the new Obama presidency seemed to percolate into the franchise. At the time, there was a paranoid theory that Ol' Liberal Barry was going to confiscate all the guns. Similarly, Iron Man 2 opens with the government, headed by Senator Garry Shandling, trying to take Tony's "weapon" away.
Marvel Studios
Marvel Studios
Marvel Studios"Every person will get a five-minute ride in the suit on their birthday."