If all that wasn't enough, the movie also rewrites the racist-as-all-hell comic book supervillain the Mandarin as a bin-Laden-like terrorist ...
Marvel Studios
... only to reveal that he's just an actor. I mean, every movie character is just an actor, but in the story, he turns out to be an actor.
Marvel Studios"Eh, it's a paycheck." -- Ben Kingsley, both in and out of character
This seems inspired not only by the suggestion that 9/11 was an inside job, but also by the theory that the raid and killing of bin Laden was staged, which was propagated by Infowars two years before Iron Man 3 came out.
InfoWars
Then there are the survivalists, the people who believe you should live off the grid in preparation for an apocalyptic event. That philosophy is oddly validated in Avengers: Age Of Ultron, wherein the only way for the Avengers to stay safe from a technological monster is to hole up in an isolated house surrounded by woods.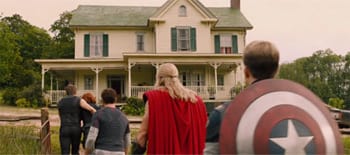 Marvel StudiosEven Hawkeye's house is boring.