But Star Wars has never met a plot that it couldn't overtell, so an official short story called "The Luckless Rodian" gives Greedo all the backstory you never wanted. In it, we learn that Greedo was obsessed with a woman named Uncelta, who was everything he "cherished" in a partner. But she was into Han Solo, and they hooked up before Han eventually broke her heart. So Greedo wanted to kill Han to avenge the feelings of a woman who never liked him, which is a pathetic love triangle more befitting a rambling Reddit post than a space opera. Oh, and Greedo got drunk before he confronted Han, just to add an extra layer of sadness to the scene.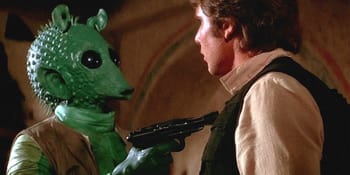 Lucasfilm"Look at the shape of my mouth. I give insane oral. What can you offer her?"
Now, we know what you're thinking: Was Uncelta a human woman, or a member of Greedo's species? We do not know, and the matter is probably best not dwelt on.