What Dwayne "The Rock" Johnson would see.
Lori Dill
What regular mortals see.
Zuckerberg seemed to show no regard for his neighbors' quality of life, or for the amount of "Facebook wall" puns that would be unleashed by local news stations. To further complicate matters, it turns out that some of those neighbors might be legally entitled to traverse the big chunk of Hawaii that Zuckerberg walled up. See, about eight acres within his 700-acre property are technically "ancestral lands" that have belonged to various families for centuries. This year, Zuck's lawyers attempted to identify the 300 or so people who might have ownership of slices of that scattered acreage ... by suing them. It turns out that this isn't the best way to endear yourself to the local population, so Zuckerberg has dropped the suits as he brainstorms some other Mr. Burns scheme.
CNBC
"Hey other candidates, I own literally all of your drunk party photos!"
Equally obnoxious is the way Taylor Swift is handling the privacy of her Rhode Island beach home: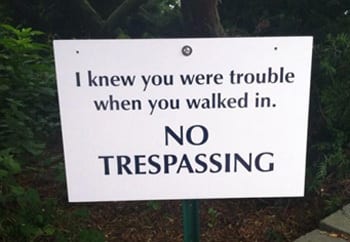 MTV