Spoiler: Frozen molasses is how they defeat the White Walkers.
Now, the world Martin's crafting is massive, and he has hundreds of moving parts, countless five-page descriptions of meals eaten by quaternary characters, and Daenerys' explosive diarrhea to pack into his narrative. But he's being held up by a more technical problem, too. See if you can spot it!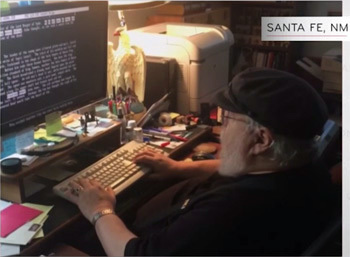 HBO
No, not the haunted bird lamp. Every writer has that.
That's a picture of Martin working with a little program called WordStar. Never heard of it? Why, it was among the hottest software that DOS had to offer! Featuring an eye-numbing interface and absolutely none of the features of any modern word processor, writing a 422,000-word novel in it is like building a new shed entirely out of toothpicks scavenged from restaurants.
Now, before you go calling Martin a Luddite, keep in mind that he has kept updated ... all the way to 1987's WordStar 4.0. He also never had to deal with Windows 8, so maybe we're the real idiots here. Martin says he just hates how modern word processors insist on automatically capitalizing words and underlining every perceived mistake -- which, when half your vocabulary is made-up words like "Essos," "Targaryen," and "Sam," is an understandable annoyance ... and one that could absolutely be turned off in about five seconds.
Jeff Kravitz/GettyImages