Maintaining a consistent creative output is incredibly difficult and takes a lot of talent, hard work, and discipline. Unless, of course, you just shamelessly repeat the same idea over and over again and hope that nobody notices, such as dropping a scene from one of your older movies into your new one or redrawing one of your old comics with the exact same characters and dialogue.
To be clear, we're not talking about artists who have recurrent themes and subtle motifs in their work. We're talking about people who literally take their old work and try to pass it off as new -- without changing a single thing.
Michael Bay Stuck A Car Chase From

The Island

In The Middle Of

Transformers 3
Paramount Pictures
Michael Bay is often accused of making movies that are indistinguishable from each other: stuff explodes, the military kicks ass, a young actress bends over in front of the camera, something racist happens, and the movie ends. Of course, it's not that simple -- as identical as they might look, it's not like Bay just takes a scene from one Transformers movie and puts it in another. Nope, he takes scenes from other movies and puts them in Transformers.
For instance, here's one of the aircraft carriers from Pearl Harbor making a cameo in the first Transformers film.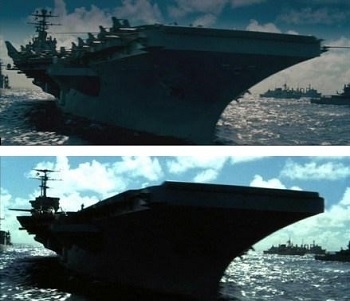 Touchstone Pictures, Paramount Pictures
That aircraft carrier should be retirement age with a snowy-white beard by now.
Perhaps that was just a little self-homage, but this isn't a one-time thing. Remember Bay's The Island, that two-hour Xbox ad starring Ewan McGregor and Scarlett Johansson? Of course you don't, because nobody saw it. This makes it the perfect film from which to "borrow" shots that Michael Bay doesn't feel like taking the time to redo. As pointed out in this YouTube video by filmmaker Jermain Odreman, Bay Frankensteined footage from a car chase he had filmed for The Island and shoved it into Transformers: Dark Of The Moon. Seriously -- barring a few CGI touch-ups, it's the exact same footage:
DreamWorks Pictures, Paramount Pictures
Bay was angry when those rollerblading robots wandered into the shot
for The Island, but they sure came in handy later on.
Ironically, the plot of The Island is all about cloning people and pillaging the clones' bodies for spare parts ... and double-ironically, that movie itself is a blatant rip-off of an older one. Did Bay intentionally pick a movie no one cares about to ensure he could get away with it? Was he trying to comment on the disposable nature of modern entertainment? Does he simply not give a shit anymore? Or, had the world simply reached Marky Mark critical mass?
DreamWorks Pictures, Paramount Pictures
Mark Wahlberg didn't even know he was in Transformers 4 -- it was all
recycled footage from Pain & Gain.
Garfield

Repeats Jokes Verbatim
Paws, Inc./United Feature Syndicate
Garfield is an almost offensively inoffensive comic strip about a slovenly cat with an eating disorder who irrationally hates Mondays (as others have pointed out, he is a cat without a job -- Monday is literally just like every other day of the week to him). However, if you pay attention, the truth is much darker: This is actually the story of a bunch of characters trapped in a hellish Groundhog Day-esque time loop, forced to repeat the same lame dad jokes over and over again. And we mean the exact same jokes:
Paws, Inc./United Feature Syndicate
We're using the term loosely.
The fact that creator Jim Davis is the antithesis of an artist probably has a lot to do with it -- he has talked multiple times about how he doesn't give a damn about Garfield beyond the money-making machine that character has become. Even then, it's surprising to see just how blatant and lazy he is about shamelessly redrawing his old strips:
Paws, Inc./United Feature Syndicate
You'd think Garfield would be used to being disappointed by now.
Paws, Inc./United Feature Syndicate
At least Davis is honest about his top priority in life.
Paws, Inc./United Feature Syndicate
The only loser here is us.
When you do hundreds of strips a year for four decades, some basic ideas are bound to repeat, but look at the poses in the examples below -- Davis (or, more accurately, the assembly line of artists he employs) stopped just short of tracing the originals before putting a new date on them and sending them off to newspapers worldwide, presumably in an envelope filled with his own farts. In some cases, he didn't even bother changing a single word.
Paws, Inc./United Feature Syndicate
At least the background's a different color.
Paws, Inc./United Feature Syndicate
"Just plug in a new number every year. It's a
cat's birthday. Who gives a shit?" - Jim Davis
Paws, Inc./United Feature Syndicate
The only thing greater than Garfield's contempt for Odie
is Davis' contempt for his audience.
Those last two examples were repeated only a year apart, by the way. There are many, many, many, many, many, many more examples, but listing them all would take us several articles. Not even Garfield And Friends, the beloved Saturday morning cartoon from late '80s to early '90s, was above recycling bits verbatim:

Incidentally, they just announced the title of the third live
action movie: Garfield 3: A Tale Of Two Kitties.