Well, the "hobbler" with the amputated leg.
And remember when Beth took a bullet to the head and the internet lost its proverbial shit? The emotional moment when a broken Daryl carries her lifeless body down the hospital stairs was telegraphed a bunch of times before it actually happened: for instance, when Beth got her foot caught in an animal trap (The Walking Dead hates feet).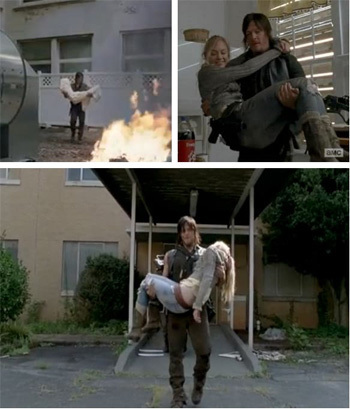 AMC Studios
This also foreshadows the plot twist in Season 10, when Daryl develops back problems.
And then, of course, there was the cliffhanger heard around the world. Fans were majorly ticked at the end of Season 6, when someone ate the business end of a baseball bat and the screen cut to black before we could find out who ... except that the show had been hinting at their identities for a while. First there was Abraham, played by Michael Cudlitz, whose name showed up next to a small cross bearing baby shoes in the opening titles for two seasons:
AMC Studios
Or a normal cross bearing giant shoes.
And what do you know: The moment Abe decides he wants to have a baby of his own, he ends up in a grave. Next up was Glenn, who kept ...
AMC Studios
... running into ...
AMC Studios