The nail was overkill. They had rope
right there
.
But then, in the very next episode, Hershel the magic-shotgun-wielding farmer is beheaded by the dastardly Governor. The killer's last words before he chops off that magnificent beard? Just one word, actually: "Liar."
AMC Studios
Hershel's zombified beard really should've become a wacky sidekick. Missed opportunity!
Later, Bob (D'Angelo from The Wire) continued his multi-series bad luck streak when he had his leg barbecued by a bunch of cannibals and died -- at which point he presumably traveled back in time and became the walker with the amputated leg he himself faced a season earlier.
AMC Studios
Well, the "hobbler" with the amputated leg.
And remember when Beth took a bullet to the head and the internet lost its proverbial shit? The emotional moment when a broken Daryl carries her lifeless body down the hospital stairs was telegraphed a bunch of times before it actually happened: for instance, when Beth got her foot caught in an animal trap (The Walking Dead hates feet).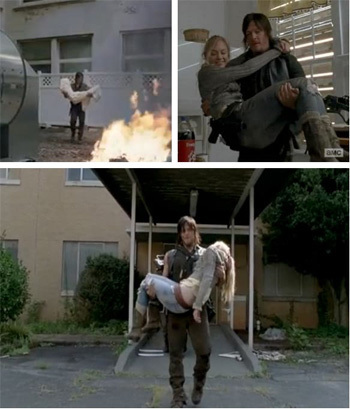 AMC Studios