Imagine someone accusing you of a crime so ridiculous that the crime itself isn't a real thing, like "French-kissing a pink elephant while enjoying free healthcare and a living wage." And before you can even figure out how to mount a reasonable defense, you and a dozen other people in your community are dead, swinging from a hanging tree while the rest of the town pats themselves on the back for sending the pink-elephant-kissers back to Hell where they belong.
Now imagine that a few hundred years have passed, and instead of mourning the terrible crime committed against you, everyone in town dresses up as a cartoon version of you and encourages tourists to buy trinkets that minimize and celebrate your death.
Got all of that? Cool, you've basically pictured what's happened in Salem, Massachusetts. This town is famous for witches and witch trials, which is another way of saying "mob hysteria which resulted in the murder of over 20 people." Instead of solemnly remembering their dark past with humility, Salem has gone a different route -- specifically, the route populated with merchandise and Ferris wheels.
The home of America's most famous assault against allegedly supernatural women has decided "Fuck it, let's just run with our biggest crime against the human race" as a tourist attraction. Salem has an amusement park, where devouring cotton candy and enduring nauseating rides are presumably an elaborate metaphor for pledging your eternal allegiance to Satan.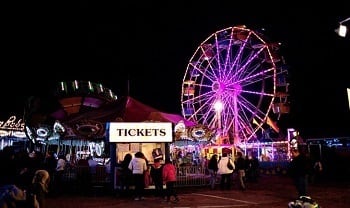 Massachusetts Office of Travel and Tourism
Here "Double, double, toil and trouble," refers to the port-a-potty line.
To be clear, Salem doesn't only run this shitshow during Halloween; the town is a year-round bevy of witch-themed tourism. There are museums and souvenir shops, and even the Salem Police wear witches on their uniforms, because what better thing for law enforcement officials to represent than the arrests and convictions of a bunch of innocent people?
Salem Police Department
TIMELY!
We don't want to rain on anyone's Halloween parade, but isn't all this a little bit fucked up? As we all know, the Salem Witch Trials didn't involve any actual witches; just a few dozen people (mostly women) who were executed or left to die in prison.
Briggs. Co. / George Eastman House / Getty Images
Proving once again to never listen to a dude with a stupid hat and terrible facial hair when he states his opinion on women.