Considering Superman is basically a god in red underwear, it's impressive that his greatest adversary is a bald guy with a platinum credit card. Lex Luthor has been sparring with the Man of Steel ever since the '40s, and through three different film franchises where the only consistent characteristic is his distinct lack of hair. However, his trademark baldness isn't the result of supervillain-related stress, laboratory accident, or even cancer -- the illustrators accidentally got him mixed up with another character.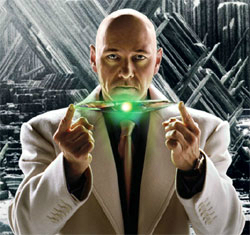 Warner Bros.
"I wish someone told me that before I shaved my head for this piece of shit."
Hardcore Superman fans know that Luthor originally had a flowing mane of red hair.
DC Comics
He looked more like Mickey Rooney as the Joker than anything else.