As they progressed to the former gravesite, the marchers became visibly more and more confused. ...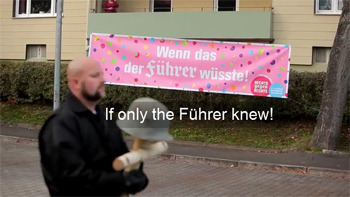 Rechts gegen Rechts
Their shaved heads provide perfect views of their furrowed brows.
At the halfway mark, the marchers crossed a line in the road thanking them for raising 5,000 euros. ...
Rechts gegen Rechts

... And finally, once they reached the finish line, they were greeted with snacks at the ingeniously labeled Mein Mampf! ("my munch") table.
Rechts gegen Rechts
Note the bananas: Nature's most hilarious snack food.