The man, who went by the bizarre but kind-of-cool name of Stress, began opening up about his struggles with depression and alcoholism. When they were done, Farrell promised to stay in touch, a promise that we assumed sounded about as empty as our promise to have coffee with the old elementary school friend we ran into at the mall.
However, a few days later, a local radio station was offering listeners $2,000 if they could bring Farrell to them for an interview (and presumably not under duress). When Farrell heard about the offer, he started scouring the streets in his limousine until he found Stress. Stress might have been under the reasonable impression that this rich man was going to hunt him for sport, but instead Farrell took him to the radio station under the guise that Stress had actually convinced him to come. Stress was $2,000 richer, and when Farrell again promised to stay in touch, it now sounded pretty damn legitimate.
Global News
Colin Farrell spell checks his texts. Don't you want to be like Colin Farrell, everyone on Earth?
When Farrell returned to Toronto four years later, he took it upon himself to end Stress' homelessness. First he took him on a shopping spree for clothes and a few other essentials, and then he gave him some rent money. Stress joined an addiction recovery group, started exercising at the Y, and today is a sober man with a sturdy roof over his head who goes by his real name, David Woods. David described his life as "hopeless" before Farrell gave him a helping hand, which makes us feel kinda shitty for cracking all those jokes about how terrible he was in Daredevil.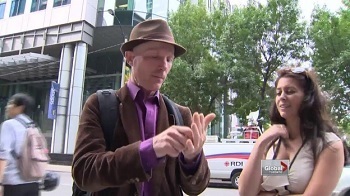 Global News
Pictured: David, counting the number of ways Daredevil sucked.
OK, phew, we're over the guilt.