When Farrell returned to Toronto four years later, he took it upon himself to end Stress' homelessness. First he took him on a shopping spree for clothes and a few other essentials, and then he gave him some rent money. Stress joined an addiction recovery group, started exercising at the Y, and today is a sober man with a sturdy roof over his head who goes by his real name, David Woods. David described his life as "hopeless" before Farrell gave him a helping hand, which makes us feel kinda shitty for cracking all those jokes about how terrible he was in Daredevil.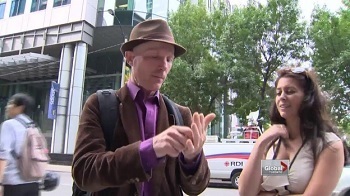 Global News
Pictured: David, counting the number of ways Daredevil sucked.
OK, phew, we're over the guilt.