Geez. Can you imagine anything worse than being locked up inside a small, grimy, poorly ventilated dungeon and stewing in your own farts for 30 days?
How It Saved His Life:
How about being steamrolled by volcanic ash, as everyone else in St. Pierre did? Yeah, OK, that's worse. Here's the city as Sylbaris saw it before and after passing through that cell: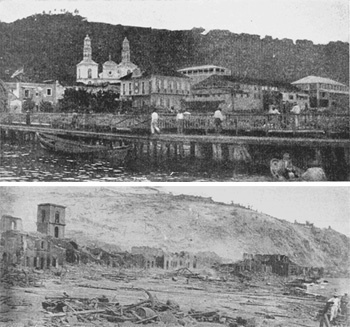 Popular Science
"Holy shit, I did that with a knife?"
The morning after Sylbaris was locked up, the nearby Mount Pelee erupted, causing the worst volcanic disaster of the 20th century -- the entire city was destroyed within minutes. St. Pierre's population suddenly dropped from around 30,000 to two or three people. And one of those of two or three was nursing the worst hangover in recorded history.
Apparently the local authorities thought Sylbaris was Juggernaut from the X-Men, because they imprisoned him in what turned out to be the sturdiest structure on the entire island. While most people in St. Pierre were making like the Nazi at the end of Raiders of the Lost Ark, all Sylbaris saw was hot ash coming in through the small slit in his door. He tried urinating on his clothes to stuff them in the slit and keep the heat out (or perhaps he was just pissing on his shirt like normal and thought, "Hey, there's an idea"), but it still got pretty damn hot in there. And by "hot," we mean the air inside Sylbaris' cell flash-heated to a temperature of over 1,000 degrees. This was the end result:
via Wikimedia
He immediately became a vegetarian.