It's not exactly a new novel, but it is original Neil Gaiman writing that virtually no one saw. And that, oddly enough, brings us to Chipotle.
You all know it as the chain of restaurants for people craving faux-Mexican but with too much self-esteem to set foot in Taco Bell. For the past year or so, they've been running their Cultivating Thought initiative where they print inspirational, original prose on their cups and bags for customers to read. Or rather, to completely ignore, since their best chance to see the text is while it's partially obscured by their own greasy thumb. If you did happen to look through the guacamole stains you'd see that Neil Gaiman wrote for one of their cups, and it was even more haunting than his Cthulhu-esque musings on cities.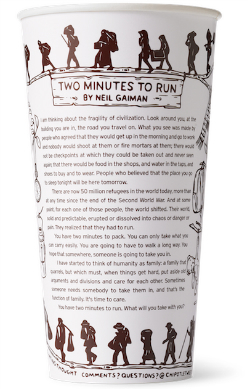 Chipotle
We'd make a diarrhea joke about that title if Chipotle wasn't so goddamn good.
Gaiman's Two Minutes To Run is a disturbing read about people in Syria abandoning their homes and escaping into a refugee camp, with only two minutes to decide what they should carry with them. If that sounds like the last thing you'd want to read while enjoying a burrito, fear not, as other, slightly less depressing big-name authors have also contributed to Chipotle's Cultivating Thought, like Malcolm Gladwell, Jonathan Safran Foer, and Pulitzer Prize-winners Toni Morrison and Jeffrey Eugenides. What percentage of customers would you say actually noticed and read the text, versus those who just assumed it was a bunch of meaningless slogans that no one has time to read during their 30-minute lunch break? The very existence of these writings either speaks very highly about Chipotle, or very badly about the post-Pulitzer job market.