In fact, looking at the changes Germany required for Valve's other games, it seems like the country has an irrational distrust of everything that developer produces. For example, in the German version of Counter-Strike, your character doesn't actually die when you get shot -- you just lie down on the ground and put your hands over your head in surrender. Another player can walk right up to you and unload their weapon into the back of your cowardly skull, and you'll keep lying there kissing the dirt like some kind of pacifist Kryptonian.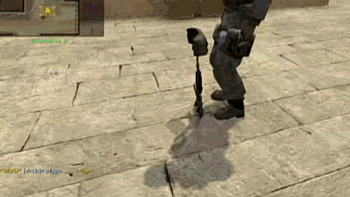 Killerschokolade/YouTube
"They can be a cowardly people, Kal-El. They wish to be. They only lack a blubbering chickenshit to show them the way."
But Germany's squeamishness over Valve's games reached a true crescendo with Team Fortress 2. The game included a mode called "sillygibs," in which the usual splatter of gore and body parts unleashed when an enemy player is killed (called "giblets" or "gibbing") is replaced with dolls, gears, and other goofy shit normally found in a treasure chest at a family dentistry.
Valve
It's like you're leading an assault on Santa's Workshop.
The German version made "sillygibs" the default mode of the game, and you cannot deactivate it. There exists no other version of Team Fortress 2 in Germany apart from the one which has you reducing your foes to the toy section at a drug store with every blast from your rocket launcher. Because it's apparently fine and dandy to explode someone as long as they have confetti and rubber ducks for organs.
And while we're on the subject of game violence ...