Shockingly, someone at the store had the good sense to assume this thing was a fish and not one of the Devil's fingers that became sentient, amputated itself from Satan's hand, and dug its way up to ground level to start a new Hell in Alaska. Store employees put the jawless bloodsucker into a bucket of water and reported it to the Alaska Department Of Fish And Game, which identified the beast as an arctic lamprey. And then someone realized these fish were spotted on land in three other spots in Alaska. Arctic lampreys, in case you're wondering, are parasitic animals who use their vampiric fangs to dig into other animals. The fact that they're popping up on land should alarm no one at all.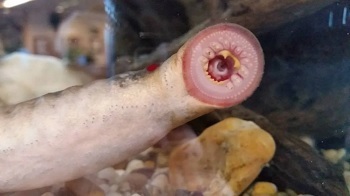 Alaska Department Of Fish And Game
"Coming to cineplexes in 2016, it's UNDERWATER CYLINDER DRACULA!"
It turns out, the explanation for land lampreys was just as spooky as the animals themselves. Tired of being spurned by humanity when all they want is a little bit of bread, it was seagulls who dropped the things onto land. Coordinated lamprey strikes against humanity didn't end up wiping any residents out, but we should all be nervous that birds and fish are now working together, like if Hitchcock woke up one day stupid as hell, wrote a sequel to The Birds about fish and birds, and just flat-out named that shit Fish And Birds.
RugliG/iStock/Getty Images
"What happens when you combine the wisdom of the bird with the duplicity of the fish?
FISH. AND. BIRDS. Christmas 2018."