In reality, this would actually make life super easy for the suspect's defense attorney, but we digress. Riding high on Detective Chimp's success, the company then rolled out Angel and the Ape, a comedic story about a talking gorilla who was -- wait for it -- a private detective (which is completely different, you guys). DC also revised some of their old pulp heroes to better fit their new "all apes" vision, taking their jungle-trekking adventurer Congo Bill and making him a superhero that could take mental control of a giant golden ape named Congorilla.
DC Comics
"Yes! I could NEVER have done this as a human being!"
And as we mentioned, somehow Superman's friend Jimmy Olsen wound up in the body of a gorilla on two separate occasions: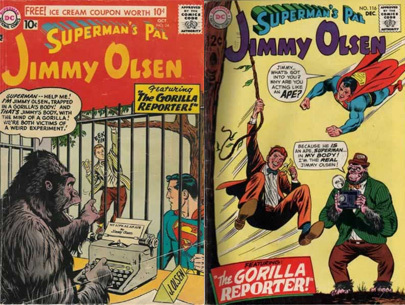 DC Comics
"Superman, do you honestly not remember the last time this happened?"
Presumably there was then a late-night session with the creative team, who decided that it was time to really take a risk and start adding ape villains to their stories. Thus we wound up with the Flash's enemy Gorilla Grodd, a superintelligent gorilla that can also use telepathy (because of course he can), and the Ultra-Humanite, a mad scientist villain whose brain is placed in the body of a giant albino ape. But perhaps the most ludicrous DC Comics gorilla baddy was Titano, an ape sent into space and bombarded with cosmic radiation, which increased his size and bestowed upon him the superpowers of convenience, like his sudden ability to shoot Kryptonite beams out of his eyes:
DC Comics
"Knock it off, Jimmy!"