In August 2010, only a week before Williams was due to be transferred to another agency, his body was found zipped inside a red North Face sports bag that had been locked from the outside. As in, literally locked with a small padlock, like this one. Because that wasn't weird enough, the bag had also been placed in Williams' bathtub. At first, authorities claimed that someone else would have to have been present for this to be possible, because duh ... but then in November 2013, they changed their mind, saying he probably did it himself. Somehow.
Erik Snyder/Photodisc/Getty Images
"It's pretty obvious," said the police captain, from his brand-new gold-covered yacht.
Is it even possible to bag and lock yourself like that? After 300 failed attempts to replicate such a feat, experts told the cops that it is in theory, but not without leaving some trace of DNA on the lock or on the bathtub. Which Williams didn't. In fact, there was barely any DNA evidence in Williams' apartment at all, leaving us with two options: A) he used Jedi and/or Harry Potter powers to move things without touching them, or B) someone gave the place a science-proof scrub.
Meanwhile, the police pointed out that Williams reportedly owned women's clothes and "visited bondage websites," implying that this was some weird sex thing. In that case, wouldn't there be DNA everywhere?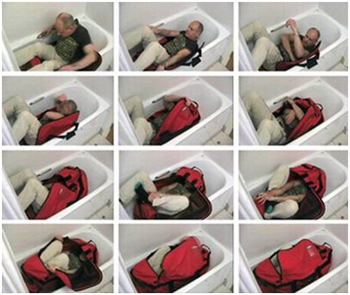 PA, via Independent.IE
"Looks like he subscribed to the LockingYourselfInDuffelBags subreddit. Case closed."