Is it even possible to bag and lock yourself like that? After 300 failed attempts to replicate such a feat, experts told the cops that it is in theory, but not without leaving some trace of DNA on the lock or on the bathtub. Which Williams didn't. In fact, there was barely any DNA evidence in Williams' apartment at all, leaving us with two options: A) he used Jedi and/or Harry Potter powers to move things without touching them, or B) someone gave the place a science-proof scrub.
Meanwhile, the police pointed out that Williams reportedly owned women's clothes and "visited bondage websites," implying that this was some weird sex thing. In that case, wouldn't there be DNA everywhere?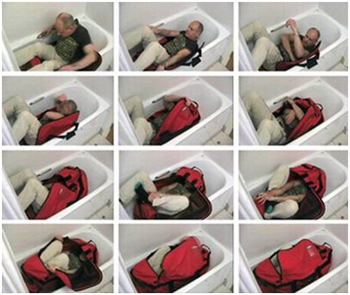 PA, via Independent.IE
"Looks like he subscribed to the LockingYourselfInDuffelBags subreddit. Case closed."
Add to this how Williams was unhappy at work and had been talking about quitting MI6, and that his bosses took a week to report his disappearance (which conveniently made it harder to determine his cause of death), and yeah, a paranoid person could think that instead of giving him a retirement package, they decided to turn him into one. Good thing American agencies would never pull any shit like that, huh?