Well, you whip yourself up some depressed rats, that's how. Typically, this is accomplished by severing the rats' sense of smell or forcing them to swim for cruelly long periods of time, but some researchers at Waseda University in Tokyo found that this just wasn't quite achieving true "Hot Topic Shopper" levels of depression. Enter their new brainchild, the WR-3 -- a tiny robot designed to be an asshole to rats: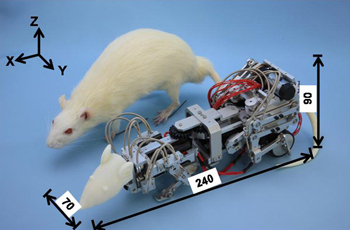 Takanishi Lab/Waseda University via New Scientist
Representing the cutting edge of solid-state douchebaggery.
Much like that kid you went to school with who was perpetually half a foot too tall to be in your grade, this robotic nose-twitcher's sole purpose is to make the lives of its companions a living hell. It constantly harasses rats in an attempt to push them closer and closer to using their freakishly oversized front teeth to carve a cheese-based suicide note, without ever quite pushing them over the edge. The researchers found that the best method to achieve bona fide, Grade A, fuck-my-life depression is for the bully bot to attack an adult rat intermittently, after harassing it nonstop as it grew up.
In other words, science successfully programmed a machine to learn the exact pattern of dickishness required to ruin the mental and emotional well-being of a living organism. Thanks in advance, science! There's certainly no way that's going to be used against us in the future.
David McNew/Getty Images Entertainment/Getty Images

"I know now why you cry. It's because you're a little bitch."