If man's existence was being snuffed out within hours, you wouldn't have time to do much beyond shovel the rest of the Entenmann's All Butter Loaf Cake into your mouth and then run into the street for a frenzied gravel-coated encounter with a stranger.
But what if everyone had some lead time before the world was going kaboom? Not too long; let's say one week.
We'd have just enough time to sit down and truly contemplate who we are, who we were, and what we contributed to the world. And most of us would want to write these things down.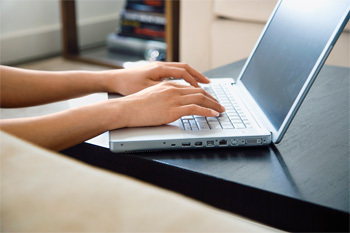 Jupiterimages/Creatas/Getty Images
"#845: Never said 'YOLO' intentionally or ironically."
Not all of these things would be meant for someone else to read. You may merely want to pour a bit of your heart onto a page before it and your eyeballs are incinerated by the ever-approaching sun.
But these letters could be the only metric by which others decide whether to invite you to their raging end times cannibalistic orgies. Hey, it's not like you're going to organize your own. And these orgy-havers will certainly not turn to YouTube to find prospective candidates. If the Internet is still up and running, imagine what a sticky horror show that joint would be in our final week. No, they will turn to the written word.
So, like resumes in a bad job market, the world will wind up flooded with farewell letters.
Max Oppenheim/Digital Vision/Getty Images
"... but we'll be sure to keep you on file for future sexpocalypses."
If you want yours to rise to the top of the despair pile, there are a few tips and tricks you should consider ...
#10. Focus on what you accomplished, not what you wish you had accomplished. Does any employer want to hear about how you wish you'd gone to Stanford but didn't because you found the complete DVD collection of The Jeffersons on the street and ended up watching it in one sitting while doing nitrous oxide and forgot the application date? Well, they might want to hear that so they can tell the story over beers at Beef 'O' Brady's, but it would never get you hired.
So in this case, don't focus on how you "never got around to donating that kidney to your sister" or how you wish you would have "occasionally raised the blinds in the living room." Do boast about how you poured the smoothest, most water-impervious asphalt driveways in the greater Baltimore area and there is a good chance that will get someone very, very excited.
Photos.com
"I'd start with a hot 2-inch base mix. Then top it with a smooth, firm surface coat."
"Take me ... now."
#9. For once, use proper grammar, spelling, and punctuation and proofread the damn thing. Expressly because mankind and its triumphs are about to be wiped out, it's more important than ever not to make a mockery of the great achievement of written communication. Don't embarrass your doomed species. Besides, no one has time to decipher your misplaced and dangling modifiers or slog through your incorrect possessive pronouns. The world's ending, dummy.
Jupiterimages/Pixland/Getty Images
One of these girls hates Oxford commas. Choose wisely.