Even in the face of this horror, the girl just smiles and whispers back at the doll, her mind no longer her own. If the ad continued for another few hours you would see her skin turn plastic, her eyes stop moving, and a "Made in Japan" label appear on her back.
Via Youtube
"But Spot is my brother's doggy ..."
"Insolent child! You will do as I say!"
This is the point where the narrator desperately reminds us that this is a product one can buy, before the doll's face returns one last time to address you directly: "I know a secret. Do you?" We know a bunch, Baby Secret, but probably none that compares to the mind-destroying truths contained within that hollow plastic skull.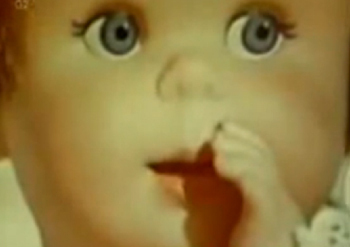 Via Youtube
By the way, the girl went on to star in something even more terrifying.
Another real phrase not included in that commercial was "