And in fact, Betty Crocker first became famous in the 1920s when she started personally responding to customer questions for the Washburn Crosby Company (which later became General Mills). Her popularity grew so much that in 1924 she got her own radio show and cooking school, and by 1945, she was the second best known woman in America, after the first lady. She also loved sitting for portraits, apparently: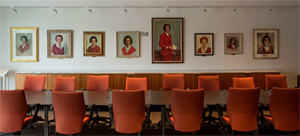 Via Bettycrocker.com
"You're allowed one outfit. Make it a good one."
But It Turns Out ...
Betty Crocker is a crock of shit. It's not that she no longer exists, as some of you may assume -- it's that she never did. The name was created in 1921 to "personalize responses to consumer inquiries," and her famous signature was chosen from samples submitted by female employees. She was invented by Sam Gale, Washburn Crosby's advertising director, because he didn't think women would take cooking advice from a man.
Via YouTube
"Betty Crocker cake mix: vagina certified!"