Paleontologists are still trying to figure out how this shark even fed itself with such an absurd mouth. The leading theory is that Helicoprion would have used its flexible jaw like a whip, lashing what was essentially a spiked tentacle into schools of fish and then pulling in whatever it managed to stab. But experts can't even agree on where Helicoprion would have stored its lower jaw when it wasn't using it to devastate swarms of prehistoric fish -- that's why different artists' renditions don't even look like the same animal:
Paleobiology.si.edu
"We're just pretty much guessing here."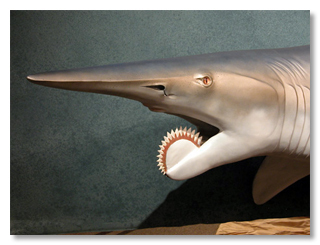 Bruce Wendorff via National Geographic
"Oh yeah? Well, we can guess much stupider than you."
Originally they assumed that the teeth just rolled back under the jaw, but the most recent hypothesis is that the shark would keep them tucked neatly away in its throat, because obviously that's always the best place to keep a deadly coil of razors.