We know what you're thinking: Arnold could just lie and say the rebels killed everybody. But he didn't do that; in the second sequel, Predators, one of the characters tells the group that the only survivor of a 1987 Guatemalan mission gave a detailed description of the alien. He doesn't say what happened after the guy gave said description, but how could it have been anything other than jail or a mental institution?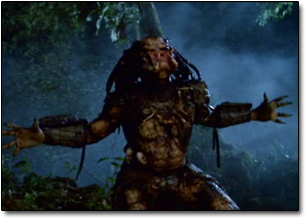 "NO ONE WILL EVER BELIEVE YOOOOOOU!"
Remember, Arnold's character, Dutch, is a gun for hire who does borderline illegal missions with a rag-tag group of even more questionable comrades. If you're hearing this story, you're going to assume one of two things: Either Dutch snapped from PTSD and slaughtered his crew because he thought they were aliens, or else the team got into some argument over a game of cards or who had the biggest biceps and murdered each other (and then Dutch went crazy).

Who needs cards when you have rippling sexual tension?