If he tells them it was an invisible alien, it doesn't paint a great picture of his mental stability. There is no sign the Predator was there other than a huge crater in the jungle. Yes, Arnold has the girl to back him up. But which is more likely, that a killer alien showed up on Earth, or that this crazy professional killer 1) murdered his squad and then 2) intimidated this woman into going along with his idiotic alibi?

We were already dialing for a chopper before we realized he wasn't in the room with us.
We know what you're thinking: Arnold could just lie and say the rebels killed everybody. But he didn't do that; in the second sequel, Predators, one of the characters tells the group that the only survivor of a 1987 Guatemalan mission gave a detailed description of the alien. He doesn't say what happened after the guy gave said description, but how could it have been anything other than jail or a mental institution?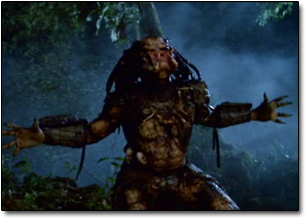 "NO ONE WILL EVER BELIEVE YOOOOOOU!"
Remember, Arnold's character, Dutch, is a gun for hire who does borderline illegal missions with a rag-tag group of even more questionable comrades. If you're hearing this story, you're going to assume one of two things: Either Dutch snapped from PTSD and slaughtered his crew because he thought they were aliens, or else the team got into some argument over a game of cards or who had the biggest biceps and murdered each other (and then Dutch went crazy).

Who needs cards when you have rippling sexual tension?
Either way, there's no way society is going to allow this huge, delusional, finely tuned killing machine to ever again sniff anything resembling freedom.