So, forget about that whole character arc thing. In the alternate universe of the game, Tony pays no price for his hubris, and so the story is instantly transformed from a gritty morality tale into yet another Grand Theft Auto-type game where you amuse yourself by wreaking havoc, with no consequences.

Man, he's really going to blunt those chainsaw teeth. He'll regret that later.
You also have to keep in mind that the only reason the drug dealers are coming to kill Tony in the finale is because of a good deed he did -- his humanity finally overcame his greed when he refused to murder innocent kids. Yet in the game, putting random civilians in danger is not just allowed --the player is actually rewarded for it. Driving on the wrong side of the road, creating unnecessary explosions and doing basically anything that endangers innocent life increases your "balls" meter.
What? Don't look at us that way. There is an actual balls meter. It measures your balls level.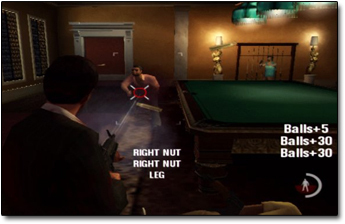 For destroying balls, you get 30 balls. Game economics.